Kigo Netflix Video Downloader Review
There are various streaming download programs on the market, so it is a question of how to quickly pick out the right download tool for you. This article is just a review for a particular product, but of course if there are some feature points that you are looking for and concerned about, it might be worth your time to take a look.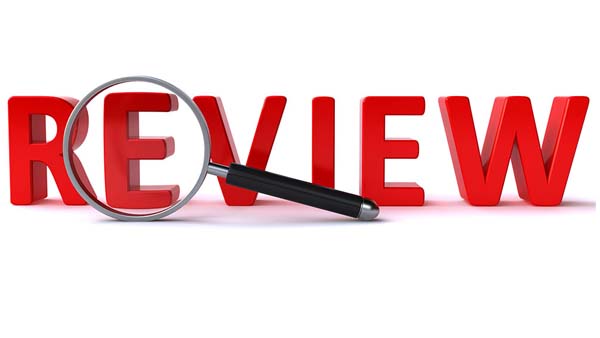 Part 1. Why You Need Netflix Video Downloader
While Netflix allows its users to download Netflix movies to enjoy offline, they also limit users from downloading too many TV shows and movies.
According to a Netflix support page, Netflix has a download limit of 100 titles at a time. If you have already downloaded a certain number of 100 titles, it means that you have reached Netflix's download limit.
Depending on the Netflix subscription plan you are using, you will only be able to download titles on up to four devices at any given time.
The downloaded titles also have an expiration time, but it varies from title to title based on the licensing agreement both Netflix and the creator have of that particular title.
If you don't like the download limit above, a third-party Netflix Video Downloader is necessary for you.
Part 2. What is Netflix Video Downloader
As the name suggests, a Netflix video downloader is a program that helps users download movies, TV and documentary programs from Netflix to their computers. After the downloading, you can play these videos on VLC Media Player, Windows Media Player, QuickTime Player, etc. offline, or transfer to Google Drive, One Drive and so on.
Kigo Netflix Video Downloader is such a download tool. Once you install Kigo on your computer, you can easily download movies, TV shows or documentaries from Netflix locally and save them in MP4 or MKV format with up to 1080p quality. You can also choose the language of the subtitles and audio tracks you want to download. And then you can you can enjoy Netflix movies and TV shows on iPhone, iPad, Android phones & tablets, TV and any other MP4 / MKV compatible devices without spending internet traffic and without disrupting Netflix limitations.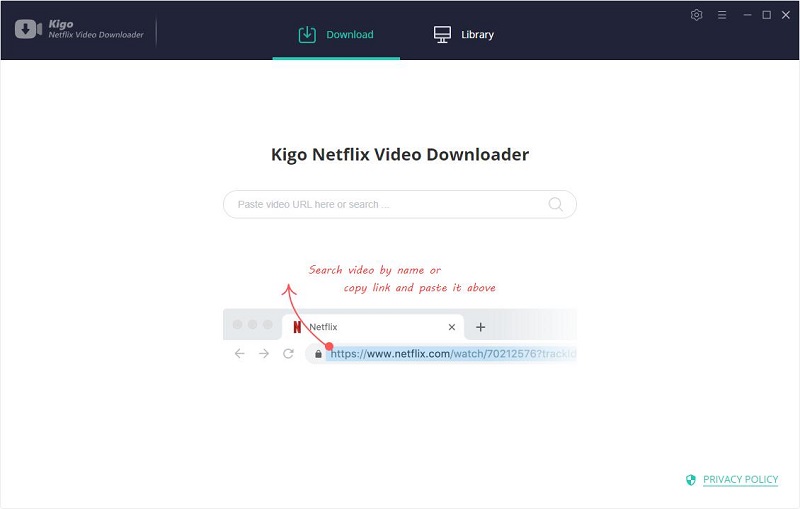 Basic information:
System: Windows / Mac
Price: $16.95 / month, $59.95 / year, $129.9 / full life license
Video Format: MP4 / MKV
Video Quality Downloaded: Low / Medium / High, 480p, 720p 1080p
Video Codec: H.264 / H.265
Free Download Win Free Download Mac
Part 3. How it works
Please note that the next guide is taking Kigo Netflix Video Downloader for Windows version for example. If you are a Mac user, please don't worry, both of them have the same steps.
Step 1 Choose the output settings.
After running Kigo on your computer, tap the Setting icon on the upper right corner to select the output format (MP4 or MKV), output quality (High, Medium, Low), output path, audio and subtitles language, etc.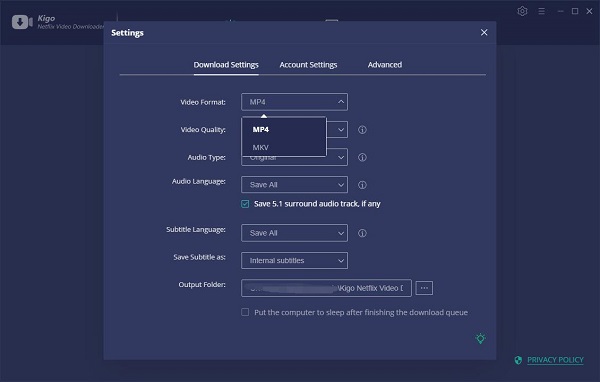 Step 2 Add Netflix videos to Kigo.
If you are browsing the Netflix website, you can copy the video address directly and Kigo will automatically adapt the Netflix play URL on the clipboard and parse and search for it. And Kigo has a built-in search engine, so you can search and add videos directly by name.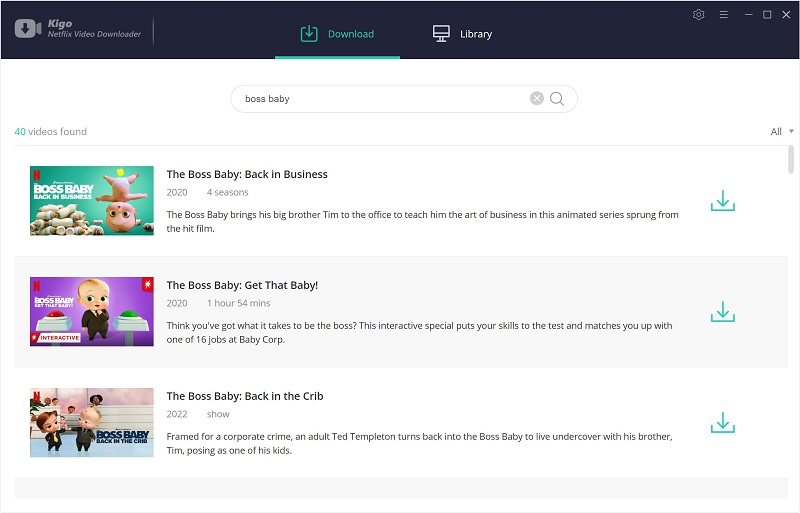 Step 3 Customize the "Advanced Download" settings.
If you are downloading a TV series from Netflix, you can directly click the "Download" button to select the seasons and episodes, and then click "Advanced Download" to set the video quality among 480p, 720p and 1080p with different bitrates. If you are downloading a movie, you can click the advanced settings button next to the download button to open the "Advanced Download" window.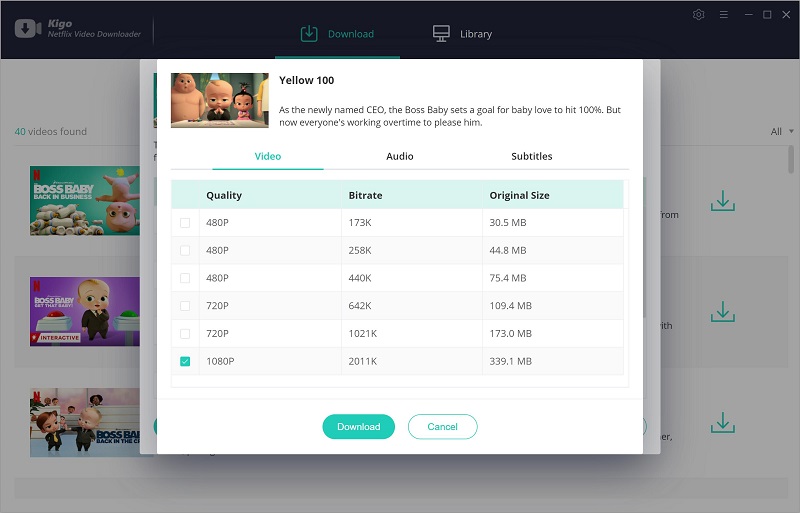 Step 4 Start to download videos from Netflix.
When you have finished setting up and selecting the above, click "Download", then the program will start downloading the Netflix videos in MP4 or MKV format quickly.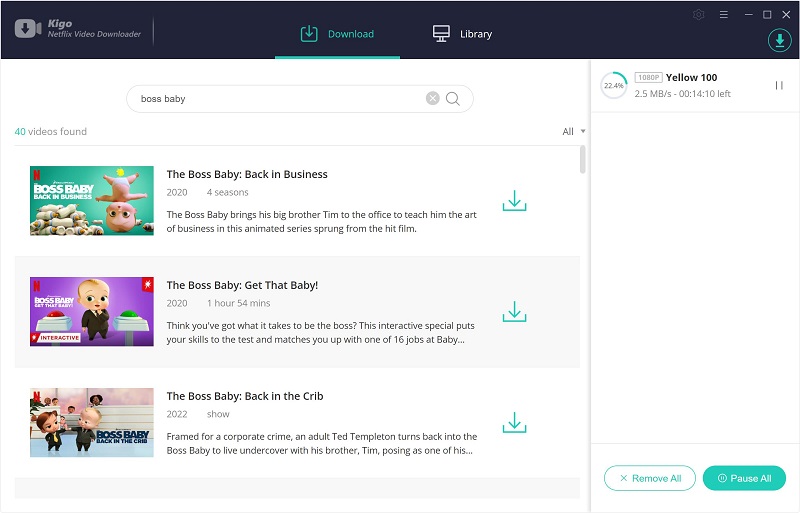 After the downloading, you can click "Library" - "Folder icon" to locate the downloaded videos directly.
Part 4. Pros and Cons
Part 4. Pros / Benefits Worth Buying
Easy to handle with user-friendly interface.
Download movies & TV shows & documentaries from Netflix.
Support downloading up to 1080p Netflix videos.
Keep audio tracks and subtitles.
No need to worry about the download limitations.
Support downloading video in MP4 & MKV format.
Support up to 24 languages.
Save subtitles as the internal, external or hardcode subtitles.
Support downloading Audio description.
Enable hardware acceleration.
Put to sleep after the downloading.
Follow-up points to improve / Cons:
No download speed settings.
Conclusion
As we all know, Netflix is constantly being revamped and upgraded, and similarly Kigo is constantly improving its programs and user experience. If you want to get videos without download restrictions, you can try using Kigo Netflix Video Downloader to download videos and watch them offline.