Google Nest Hub provides help at a glance in any room at home. With the Google Assistant built-in, you'll always see your best and latest shots from Google Photos. Plus, view and control your connected devices from a single dashboard.
While you can watch most streaming apps like Hulu, YouTube, and Plex via Cast on any Nest Hub, Netflix has been missing since Google's launch. You can't play content from the biggest streaming service out there on them, even though they have support for cast streaming.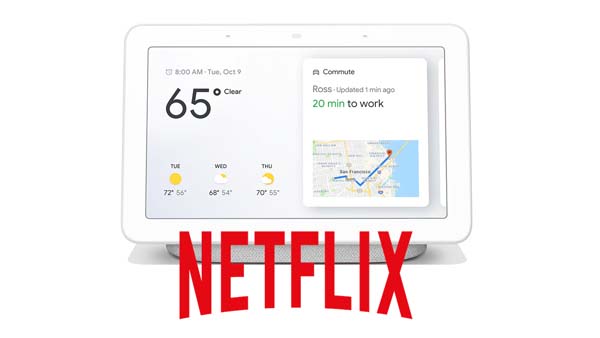 It's not Google's issue, either. Chromecasts play nice with Google's Widevine DRM, so rights holders can be sure streamed content is protected, and other services like Hulu, YouTube TV, and even the brand-new Disney+ have no problem playing nice with smart displays.
The underlying technology is there to at least make an attempt in Netflix playback. Google Nest Hubs all have Google Cast built into the OS and the app supports video playback via this protocol. This points to how Netflix is very particular on how they release the streaming services to devices.
Obviously you can't play Netflix videos direcly on Google Nest Hub. Currently, you can only use these partners to play shows and movies on TVs using Google Nest or Google Home speakers or display.
Maybe you can try to download the Netflix movies, TV shows, original series and so on and then play the downloaded videos via Chromecast on Google Nest Hub. Now the problem is solved. Kigo Netflix Video Downloader is the tool to download various Netflix contents, including movies, TV shows, the original series, and documentaries as you like with the audio track and subtitle kept.
Support Downloading movies, tv shows and original series.
All the audio tracks and subtitles will be kept.
Download up to 1080p HD videos.
Fast speed and easy to operate.
Free Download
Purchase Now
Download Netflix Videos and Play on Nest Hub
Step 1 Click the Download button to download the latest version of Kigo Netflix Downloader, install and run the Netflix Downloader.
Step 2 Click the Download button.
Input the videos you want to download on the search area. Or you can also copy and paste the video link directly to add the videos.
After you find the videos you want to download, click the Download button.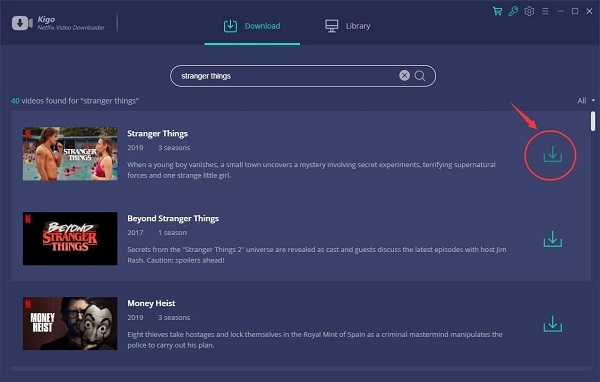 If you don't use Kigo Netflix Downloader ever, you need to login with your Netflix account to go on downloading.
After you login with your Netflix account, choose the season of Stranger Things you want to download .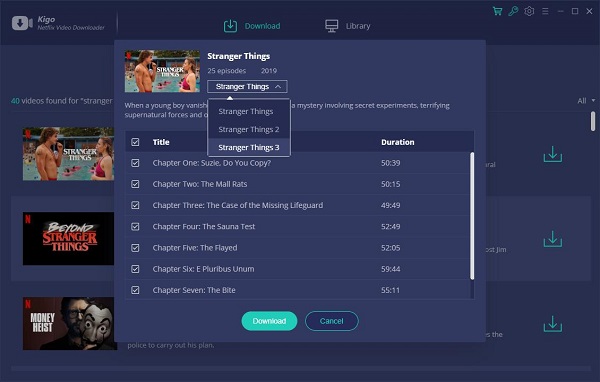 Step 3 Start downloading.
Once the downloading is completed, you can find the downloaded videos from the Library.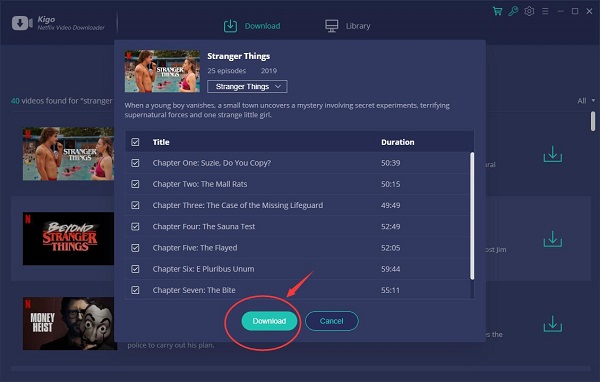 Step 4 Stream on Chromecast.
Drag your downloaded video files to chrome browser, or press Ctr + O to browse and import your files. And then your video will be played in Chrome's built-in video viewer. Then click the Cast current tab on your browser to stream media files to Chromecast. Now you can play them via Chromecast.
Conclusion
It is simple to watch most streaming apps like Hulu, YouTube, and Plex via Cast on any Nest Hub, however you can't play Netflix on Nest Hub like playing Hulu videos, maybe you can think about the above solution.
---