Shortcuts
You may know that Sony PS4 supports Netflix, that is to say, you can directly play Netflix videos on PS4 as you like. Do you know there is also other method to help you play Netflix videos on PS4 without installing Netflix app, just go ahead.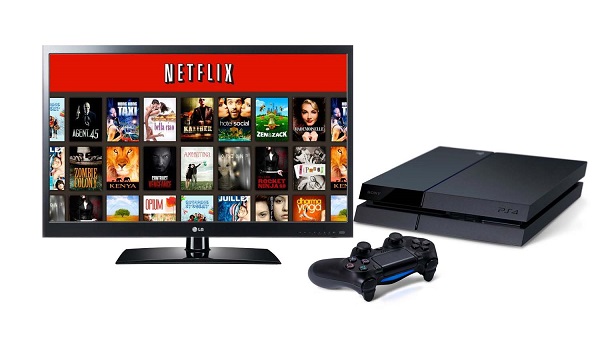 Method 1. Watch Videos via Netflix App on PS4
Step 1. Open your PS4 and download Netflix app.
On the Home screen, find the TV & Video section. You will see a Netflix icon. Select it. If you were not on the Home screen on your PS4, you can press the PS button to take you there. You must be logged into your PS4 account in order to access the TV& Video section.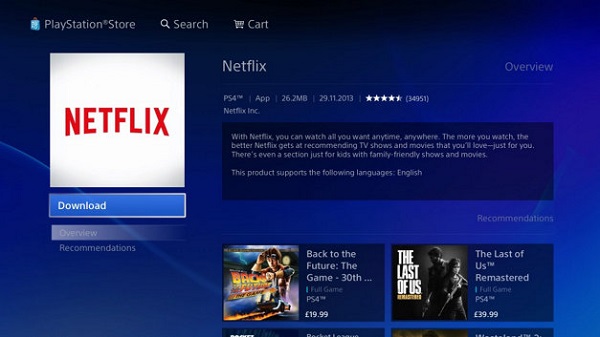 Please note that you must be signed in to PlayStation Network to access the TV & Video services.
Step 2. Run Netflix on PS4
After you selected the Netflix icon, you will be taken to the Welcome screen. You will have to sign into your Netflix account. To sign in, enter your email address and password. These might be different from your PSN details.
Step 3. Play Netflix videos on PS4
Now you have connected your Netflix account to your PS4 to watch Netflix videos on PS4 as you like.
With the Netflix, you can browse rows of movie posters or select "Search" to find movies you want to watch. Don't worry about the video quality, you can stream movies and TV shows up to 1080p. Titles with an HD symbol will stream in high definition if your internet connection supports 5 Mbps or more.
Method 2. Watch Netflix Videos directly on PS4
From the method 1, you can know that if you want to play Netflix videos on PS4 successfully, you must be signed in to the PlayStation Network in order to use Netflix, for Netflix will not be available on PlayStation 4 systems when the PlayStation Network is down for maintenance. And sometimes you don't have enough internet speed to watch the high quality videos via PS4, the Method 2 without Netflix app is helpful to solve the problem.
Kigo Netflix Downloader is the tool to help you download Netflix movies, TV shows, Netflix original series and documentaries with up to 1080p quality. Meanwhile All the audio tracks and subtitles will be kept. There is no need to worry about Netflix's download limit.
Support Downloading movies, tv shows and original series.
All the audio tracks and subtitles will be kept.
Download up to 1080p HD videos.
Fast speed and easy to operate.
Free Download
Purchase Now
At first, please make sure you have installed the latest version of Kigo Netflix Downloader.
Step 1 Run Netflix Viideo Downloader. You can copy video URL or search videos to add Netflix videos to download.
If you have the Netflix videos' url you want to download, just copy and paste them to download. You can also search the videos to download.
Step 2 Click the Download button.
After you find the videos, click the Download button.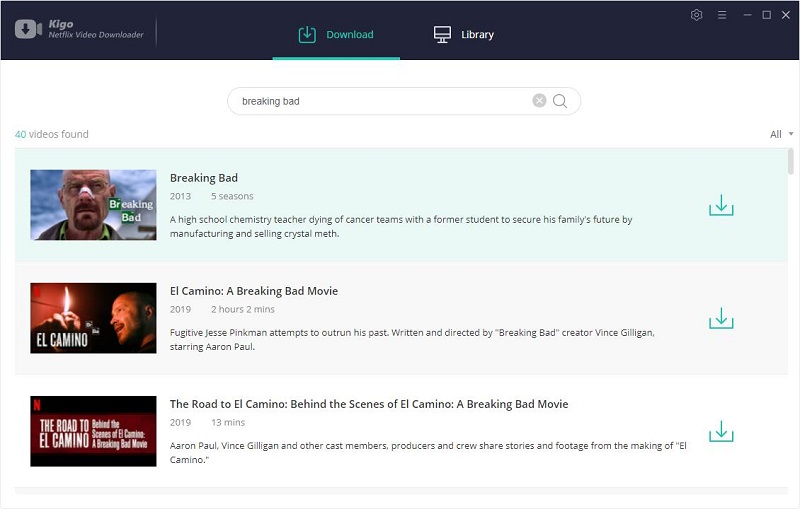 To go ahead, you need to login with your Netflix account.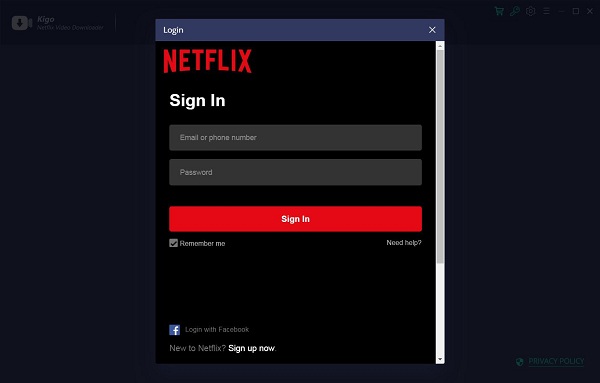 After you login with your Netflix account, choose the video or TV shows to download.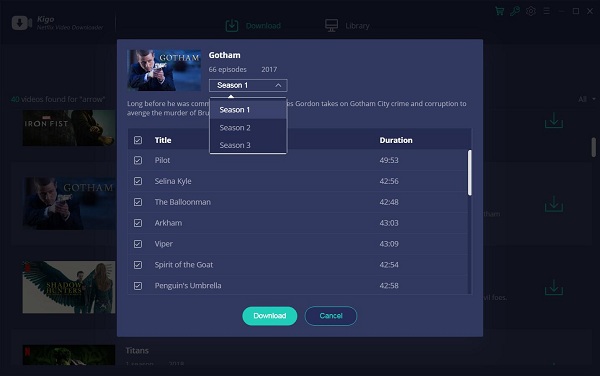 Step 3 Start downloading.
When the downloading is completed, you can click on Library to find the downloaded.
Step 4 Play downloaded Netflix videos on PS4 via USB.
There are several methods to play local videos on Sony PS4, here we use a USB with "Media Player" app.
1. Before the downloaded videos' transfer, please make sure that your USB system is exFAT file system, put the downloaded videos in a folder named "Videos".
2. Remove the USB drive from the computer and plug it into one of the USB ports on your PS4.
3. Launch the PS4 Media Player app and your USB drive will appear as an option.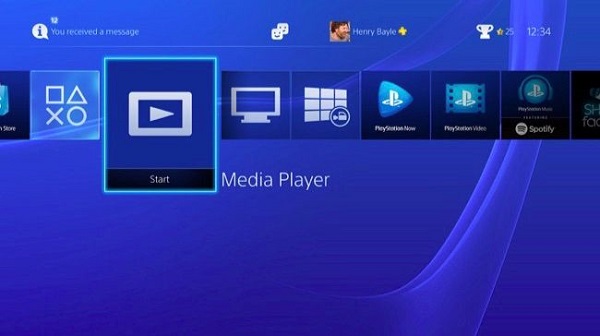 4. Select your USB drive, browse to the music or videos you want to play, and use the buttons on the controller to control playback.
Conclusion
Nowadays most people don't just use PS4 to play games, they also watch videos and listen to music with it. There are so many TV shows, movies or original series on Netflix, it is also a wise choice to stream Netflix videos on PS4. You can choosee one method to watch Netflix videos on PS 4 according to your need.
---