In our daily life, Netflix is almost everywhere. You can watch videos on Netflix from your mobile phones, Android Tablets, iPad and smart TVs. A bigger screen, a better enjoyment for watching videos. It will be wonderful to play Netflix and watch on living room TV. Not all the living room TVs are smart TVs, and some older TVs don't built in Netflix. According to the living room TVs type, there are two different methods to help users play Netflix on living room TVs.
Shortcuts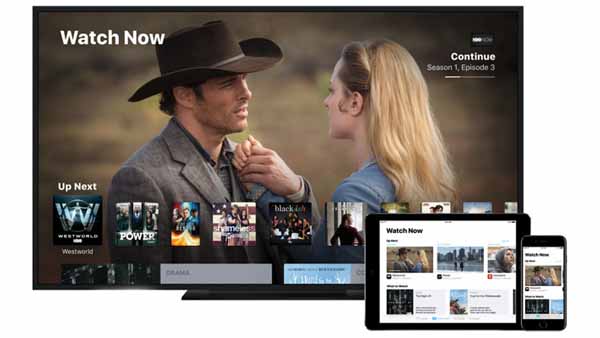 Method 1. Play Netflix on living Room Smart TVs
It is well known that Netflix is available on hundreds of devices. For most TVs, the Netflix app will be visible from the main menu or home screen. If your living room TV is a smart TV and it has an app store where you can download new apps, try searching for Netflix to see if the app is available.
1. Select Netflix from the Home screen.
2. Select Sign In.
Please note that:
If you do not see Sign In, select Yes on the Are you a member of Netflix? screen.
If you are not yet a member, set up your membership online.
3. If you see an activation code, enter it at netflix.com/activate. If you do not see an activation code, enter your email address and password to sign in.
4. Now your TV is now connected to your Netflix account and you can watch whatever as you like.
Method 2. Play Netflix on living Room Non-Smart TVs
Sometimes your living room TV isn't smart ones, or it doesn't support Netflix playing. If you still want to play Netflix movies or TV series on living room TV, how to do?
Part 1. Cast your TV's Netflix to the living room TV
Just imagine that you can't install Netflix on your TVs, you can try to cast Netflix of your phones to your TV with Chromecast.
First of all, you need to install and set up the Google Home app on your mobile device.
1. Plug in the Chromecast.
2. Download the Google Home app.
3. Connect your mobile device to the same Wi-Fi network that you intend to use with your Chromecast device.
4. Open the Google Home app and set up the Chromecast as a new device.
Once you've finished setting up Chromecast, you can start casting Netflix to your TV.
1. Launch the Netflix app on your device and sign in.
2. Select the Cast icon from the upper or lower right side of the screen.
3. Select your Chromecast from the list of available devices to launch the Netflix app on your TV.
4. Select a TV show or movie to watch and press Play.
Part 2. Download Videos from Netflix to USB Drive and Play on TV
If you don't have enough internet speed or stable internet, you can try to download movies or TV shows from Netflix and save them to USB drive and then plug in the TV and play.
Kigo Netflix Video Downloader is a full-featured Netflix content downloader. With it, you can easily download movies, TV shows, original series and documentaries from Netflix with up to 1080p quality. All the audio tracks and subtitles can also be kept. There is no need to worry about the download limit.
Support Downloading movies, tv shows and original series.
All & some audio tracks and subtitles will be kept.
Support up to 1080p HD videos downloading.
Fast speed and easy to operate.
Free Download
Purchase Now
Step 1 Free download the latest version to your computer, install and run the Netflix Downloader.
Step 2 Input the video name or the related keywords you want to download and search.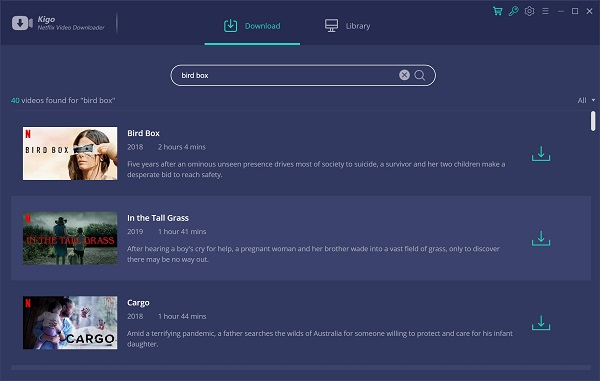 No only search and find the videos you want to download, you can also copy and paste the video url or drag the video url to the program.
Tips: If you don't use Kigo Netflix Downloader ever, you need to login with your Netflix account to continue downloading.
Step 3 Advanced Settings before downloading.
When you move mouse to the movie you want to download, the "Advanced Setting" logo will pop up beside the download button.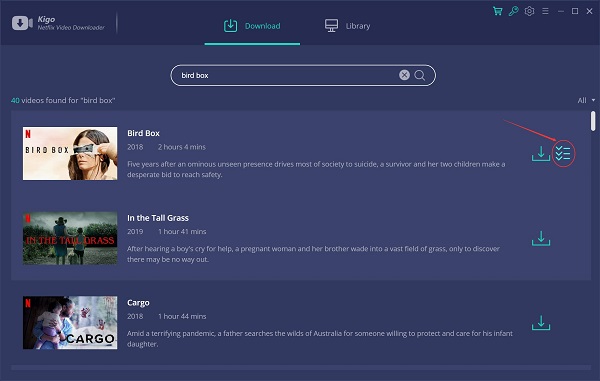 Click it, you can set the output quality, audio track and subtitle as you like.
Step 4 Start Downloading.
After the downloading settings, now just click "Download" button to start.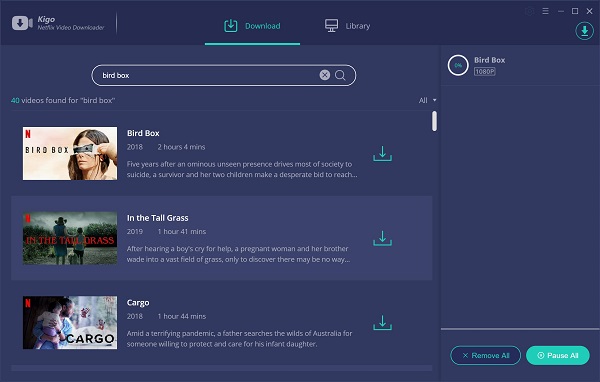 Step 5 Copy to USB Drive and play on TV.
After the downloading, you can check the history and click "Show in Finder" to find all the downloaded files. Connect your USB drive to your pc and transfer these downloaded videos into USB drive. Now you can plug into TV and play these videos as you wish.
Conclusion
There are so many TV types, smart or not. Not all the TVs can be built-in Netflix. Please don't worry, just according to your cases, find one solution to play Netflix on your living Room TVs freely.