Netflix vs Disney+
Like the true story, even it will hurts. Want to know more about the inspirational, scary, sad, funny or anywhere in between. All these complicated feelings you can get from the documentaries. Don't forget that Netflix also supports various documentary series and movies.
In the following we will collect the most and top 10 documentaries ever. Some you may have seen, and you may want to watch in the next. Just read the following.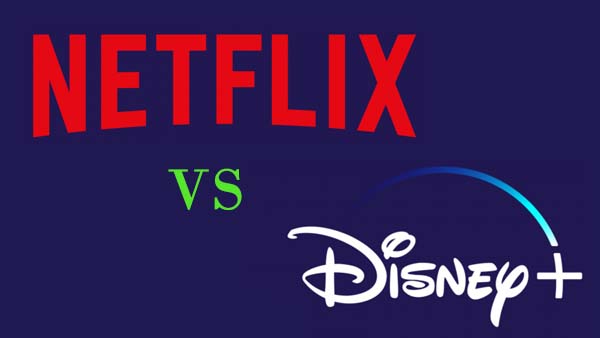 Basic Information about Netflix & Disney+

Netflix, Inc. is an American media-services provider and production company headquartered in Los Gatos, California, founded in 1997 by Reed Hastings and Marc Randolph in Scotts Valley, California. The company's primary business is its subscription-based streaming service which offers online streaming of a library of films and television programs, including those produced in-house. As of April 2019, Netflix had over 148 million paid subscriptions worldwide, including 60 million in the United States, and over 154 million subscriptions total including free trials.

Disney+ is an American subscription video on-demand streaming service owned and operated by the Direct-to-Consumer & International (DTCI) division of The Walt Disney Company. The service primarily distributes films and television series produced by The Walt Disney Studios and Walt Disney Television, with the service advertising content from Disney's Marvel, National Geographic, Pixar, and Star Wars brands in particular. Original films and television series are also distributed on Disney+, with ten films and seven series having been produced for the platform as of November 2019.
Netflix Price VS Disney+ Price

Netflix supports three streaming plans for users. In the next we take Netflix in USA for example. According to your video quality and devices you want to play at the same time, there are $8.99, $12.99, $15.99 three plans. From the following tablets you can know the differences easily.

Have to say that Disney+ is cheaper than Netflix. Users only need $6.99/month or $69.99/year to watch Disney+ videos and unlimited downloads on up to 10 devices.
Netflix Resources VS Disney+ Resources

According to Finder.com Netflix offers 3,931 movies and 1,818 television shows to audiences in the United States, a total of 5,749 titles overall. That dwarfs the 652 movies and shows that Disney Plus launched with. Also, Netflix offers movies with R and NC-17 ratings, which Disney Plus does not. Highlighting this point, DecisionData relays the following:

Netflix touts approximately 5,800 unique titles on their streaming library
Netflix currently has over 3,900 movies and over 1,800 TV titles
Disney currently has under 800 unique titles available for streaming

That is to say, even you have spent more on Netflix, you also got more.
Netflix Video Quality VS Disney+ Video Quality

From the above price comparison, we know that you can get the different quality according to your streaming plans on Netflix. If you want the 4K Ultra HD video, you must subscribe the Premium plan with $15.99.

However Disney+ users want to play its UHD content if the videos support. includes 4K video by default. There is no need to pay for them again. Netflix regains some of its credibility with a superior 4K library, with 785 titles (according to JustWatch) to Disney Plus' 48.
Supported Devices of Netflix VS Disney+

Netflix can be accessed via an internet browser on PCs, while Netflix apps are available on various platforms, including Blu-ray Disc players, tablet computers, mobile phones, smart TVs, digital media players, and video game consoles (including Xbox One, PlayStation 4, Wii U, Xbox 360, and the PlayStation 3). The Wii and the PlayStation 2 were formerly compatible with Netflix as well.

In addition, a growing number of multichannel television providers, including cable television and IPTV services, have also added Netflix apps accessible within their own set-top boxes. 4K streaming requires a 4K-compatible device and display, both supporting HDCP 2.2.

Disney+ is available for streaming via web browsers on PCs, as well as apps on Apple iOS devices and Apple TV, Android mobile devices and Android TV, Amazon devices such as Fire TV and Fire HD, Chromecast, Chromebook, Samsung smart TVs, LG smart TVs, Roku devices, PlayStation 4, Xbox One, and Windows 10. Content available on Disney+ is also listed in the Apple TV app.
Conclusion
Even Disney+ with a low price compared with Netflix, Netflix has a larger video library for users to choose. This is the most important to attract users to subscribe its service even with a higher price. Both of them are built-in downloading function. There are also third-party Netflix Downloader like Kigo Netflix Downloader for users to choose, which has no Netflix download limit.