5 New Series Coming To Netflix In September, 2020
As the most popular video streaming service, Netflix has got 193 million paid subscribers. And there are always more and more new video contents coming to Netflix. What is new on Netflix in the following September. You may also be doubt about this.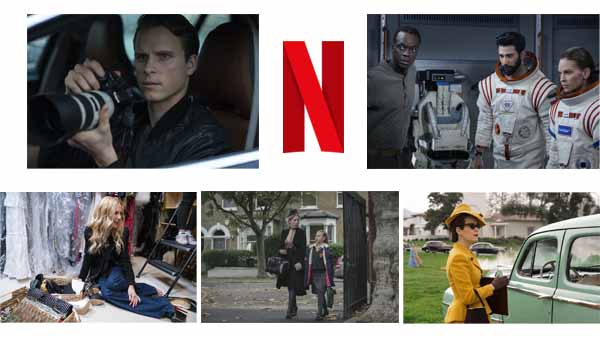 And during the stay-at-home period, the new videos also give more freshness. According to Nielsen, the current Covid-19 pandemic has "catapulted streaming to become the present, and perhaps the future, of content consumption - and perhaps creation as well."
To meet the subscribers' need, here are five new shows coming to Netflix next month that have been vetted to be definitely worth the binge.
Young Wallander
This series is based on the bestselling Kurt Wallander novels by the late Swedish author Henning Mankell. The viewers will follow Kurt Wallander as the recently graduated police officer investigates his first case. This character appeared in 11 of Mankell's popular books and a collection of short stories. Swedish actor Adam P?lsson stars in the English-language modern retelling of this story as the legendary detective navigates the increasingly violent environment of present-day Sweden. When he's unable to save a teenager from a gruesome attack, Wallander must learn to cope with his guilt in order to solve the crime. This six-episode series premieres in the states September 3.
Away
The 10 episodes drama series will keep you hooked from start to finish. It's an emotional and exciting ride! Hilary Swank shines as Emma Green, an American astronaut leading an international crew on the first mission to Mars. Josh Charles plays her husband Matt, who stays at home for the three-year duration of the mission to take care of their teenage daughter, Alexis (Talitha Bateman). Rounding out the international crew are Ato Essandoh as Kwesi, Mark Ivanir as Misha, Vivian Wu as Lu and Ray Panthaki as Ram. From different corners of the globe, the team must work together under extreme stress to save themselves and the mission at hand. Away premieres globally September 4.
Get Organized with The Home Edit
This is the perfect time to get organized and Netflix is here to help with this eight-episode series. Viewers will join Clea Shearer and Joanna Teplin, the master organizers and bestselling authors behind the innovative home organization company The Home Edit as they bring their skills to the masses. The two conquer clutter with their unique brand of interior styling, practicality and humor, dramatically transforming the lives of their featured clients. You can start cleaning out your closet with the show's global premiere September 9.
The Duchess
This is Katherine Ryan's debut scripted series. The six-episode comedy follows the powerful and problematic choices of a fashionably disruptive single mother living in London. Her world revolves around her greatest love, her daughter Olive. Life takes a turn when she debates having a second child with her greatest enemy, Olive's father. Ryan stars, writes and executive produces the series. If you're in need of a good laugh this one is for you. The series premieres globally September 11.
Ratched
If you like extremely dark suspense, this one is definitely for you. Inspired by the iconic character Nurse Ratched in One Flew Over The Cuckoo's Nest, the eight-episode small screen version is instantly addicting. The viewer is immediately entangled in the world of Mildred Ratched, played by Sarah Paulson. As the story unravels, the viewer follows the asylum nurse and learns about her tragic past. This new telling starts in 1947 as Mildred arrives in Northern California to seek employment at a leading psychiatric hospital where new and unsettling experiments have begun on the human mind. Mildred is on a clandestine mission and to hide her true motives, she presents herself as the perfect image of what a dedicated nurse should be, but the wheels in her evil mind are always turning. As she begins to infiltrate her new workplace, her perfectly poised, stylish exterior crumbles, revealing an inner monster that can no longer be contained.
Download Netflix New TV Series
When you go for a trip or other cases to want to download these Netflix videos offline, Kigo Netflix Video Downloader is a simple yet powerful Netflix video downloading program, which is mainly used to help users download various Netflix contents including movies, TV shows, original series and documentaries and save them to MP4 format for almost all the video player and devices.
Support Downloading movies, tv shows and original series.
All the audio tracks and subtitles will be kept.
Download up to 1080p HD videos.
Fast speed and easy to operate.
Free Download
Purchase Now
Step 1 Click the above download button to download the latest version to your computer, install and run the Netflix Downloader.
Step 2 Input the show name you want to download and search.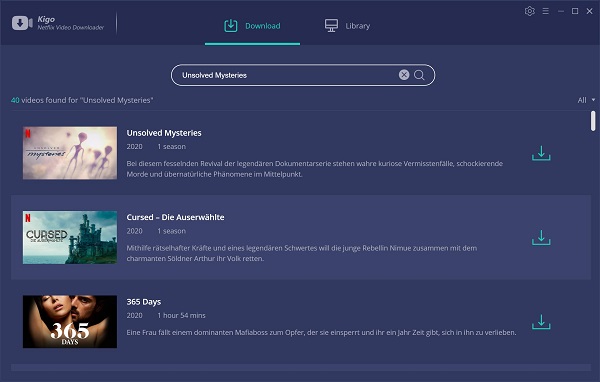 You can also copy and paste the video url or drag the video url to the program.
Tips: If you don't use Kigo Netflix Downloader ever, you need to login with your Netflix account to continue downloading.
Step 3 Advanced Settings.
Click Download icon, and then click "Advanced Download" in the new window to open the setting window.
Click it, you can set the output quality, audio track and subtitle as you like.
Step 4 Start Downloading.
After you finish the downloading settings, you can click "Download" button to start.
Conclusion
Each month Netflix will adds more and more new video contents to its subscribers. Right now we also have a lot of time to stay at home, it will also be wise choice to watch videos at home.