Where are Amazon Prime Downloads Stored?
On the Prime Video app for iOS, Android, macOS, or Windows 10 / 11, you can watch various Amazon videos on your iPhone, iPad, Tablet, or Android device, and you can also download titles for offline watching. So how to download these videos, and where the downloaded videos will be stored, the next content will reveal the mystery for you one by one.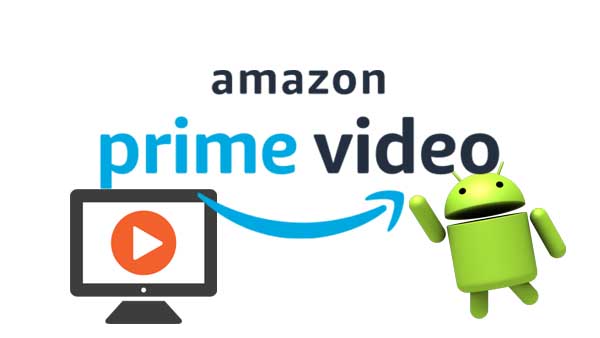 How to Download and Watch Videos with the Prime Video App?
To download Prime Video titles, open the Prime Video app on your device, and find the title you want to download. In the Prime Video app for Android and Windows 10, you will be able to select where these downloads are saved. The method to save onto USB-connected drives is not recommended.
To watch downloaded videos, tap the Downloads tab in the Prime Video app on your iPhone or iPad. Fire and Android owners, tap the left navigation menu, select Downloads, and then select the show or movie you want to watch.
Where are Amazon Prime Video Downloads Stored on PC?
If you have installed the Amazon Prime Video app on your Windows 10 computer, you cannot customize the output path. It is usually installed by default in the C: drive. And specifically, the movies and episodes of your downloaded series will be stored in the folder:

C: \ Users \ Username \ AppData \ Local \ Packages \ AmazonVideo.PrimeVideo_pwbj9vvecjh7j \ LocalState \ Downloads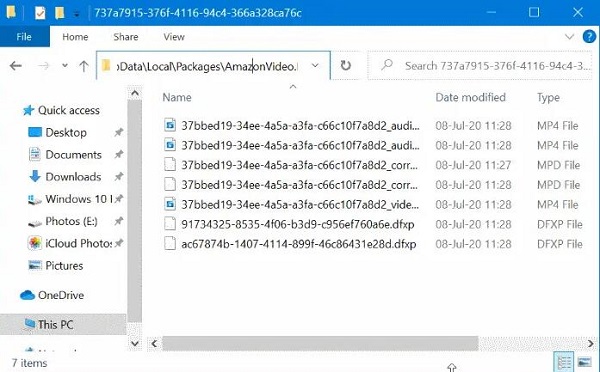 Note: In this path, the letter C: corresponds to the drive where the Amazon Prime Video app has been installed and the Username refers to the real user name of the account in Windows 10.
The downloaded videos are saved in MP4 format. However, they cannot be opened with media players. That is, only the Prime Video app can open them.
Where are Amazon Prime Video Downloads Stored on Android?
The Amazon Video app allows Android users to download movies and TV shows for offline viewing. Tap the app, and log in with your Amazon prime account. Browse and select a movie or series you wish to download. Click on it to see the details. Tap on Download to start downloading the whole series. You can also download individual episodes by clicking the download icon beside every episode.
To browse the video you have just downloaded, open File Manager on your Android device, and then find the downloaded Amazon Video folder by following the path "internal storage/android/data/com.amazon.avod.thirdpartyclient" or "/data/data/com.amazon.avod.thirdpartyclient".
Tips to Save Amazon Prime Videos to Any Folder on PC / Mac
With the above, it is clear that we know the output path to save these downloaded videos, however the fact is that you cannot extract or copy the file. It is encrypted in such a way that only Amazon prime app is able to play them. Only with the Amazon Prime Video application being in full control are privacy rules and regulations assured and publicity distribution rights to download, copy and play without permission and financial penalty avoided.
What to do if you want to customize the output path of the downloads and play these downloaded videos freely on your computer? To solve problems easily and quickly, Kigo Amazon Video Downloader is a great helper. As a professional streaming video downloading tool, Kigo Amazon Video Downloader allows you to easily and quickly download movies, TV series, and documentaries with up to 1080p from Amazon for offline viewing, and it supports up to 10 languages of audio tracks and subtitle files. You can store these downloaded videos in MP4 or MKV format, and move and transfer them to other folders or USB drives, SD cards, etc.
Download Amazon movies, TV shows, and original series.
Save Amazon Prime videos to MP4 or MKV formats.
Select audio tracks and subtitles to keep.
Support up to 1080p HD videos with 5.1 audios.
Fast speed and easy to operate.

Free Download
Windows 11/10/8/7
100% Secure

Free Download
macOS 10.15-14
100% Secure
***Please note that the software interface may be updated and we recommend checking the official tutorials for the latest instructions.
Before you download video, free download and install the latest of Kigo Amazon Video Downloader on your computer.
Step 1. Select the Website and Login to Your Amazon Account.
Launch Kigo and select the website you want to download Amazon videos from.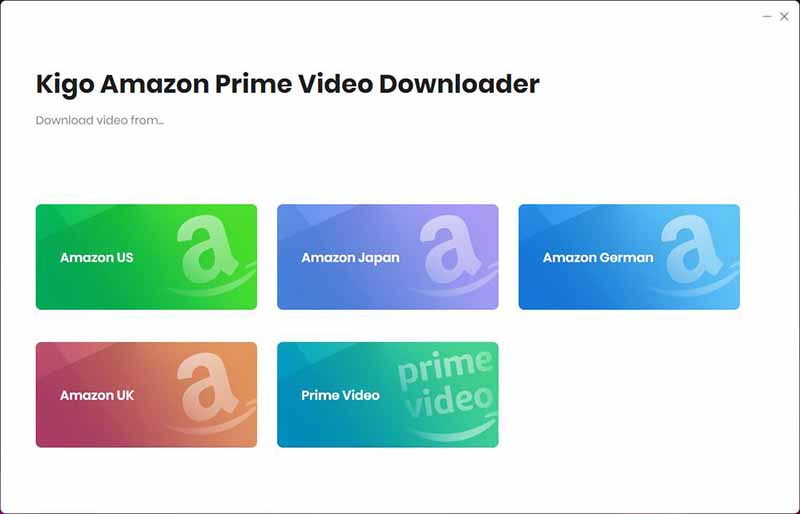 Then sign in to your Amazon account or Prime Video account.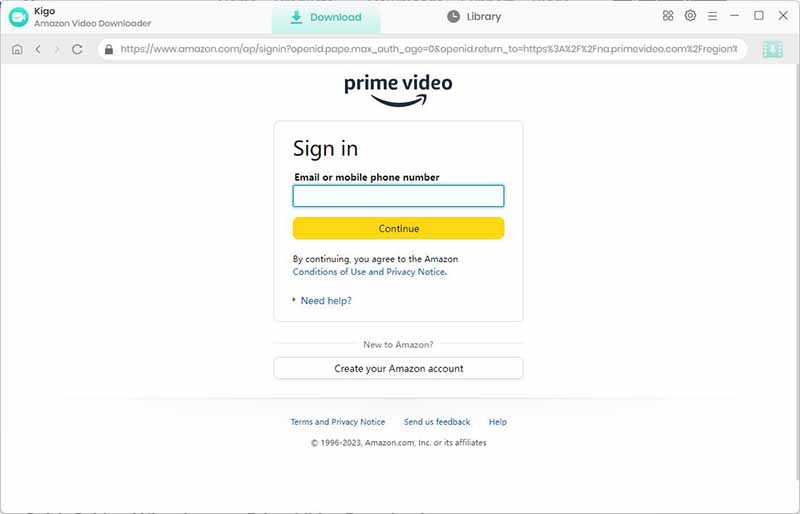 Kigo Amazon Prime Video Downloader will not take any information out of your account. More declaimer about privacy.
Step 2. Select Basic Settings.
Click "Gear" icon to set the the output format (MP4 / MKV), output quality (Low, Medium, High), audio track language, subtitle language and so on.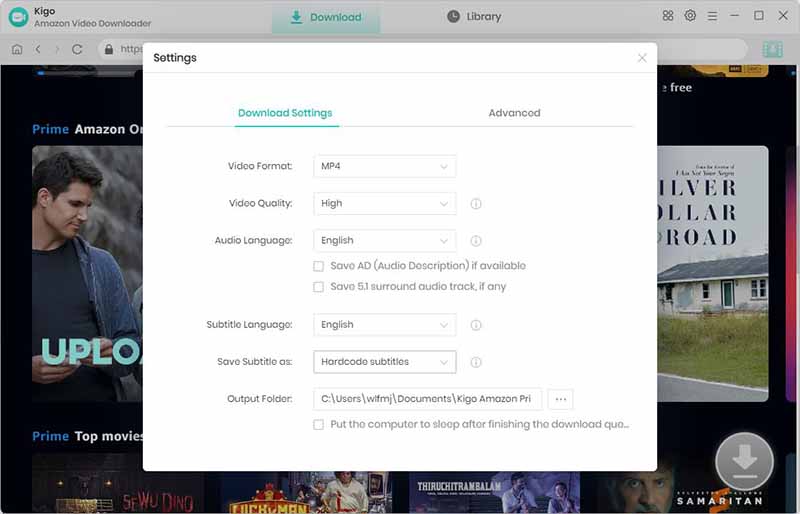 Step 3. Add Amazon Prime Videos.
Browse the homepage to quickly find the video you want to download or search by video name in the search box.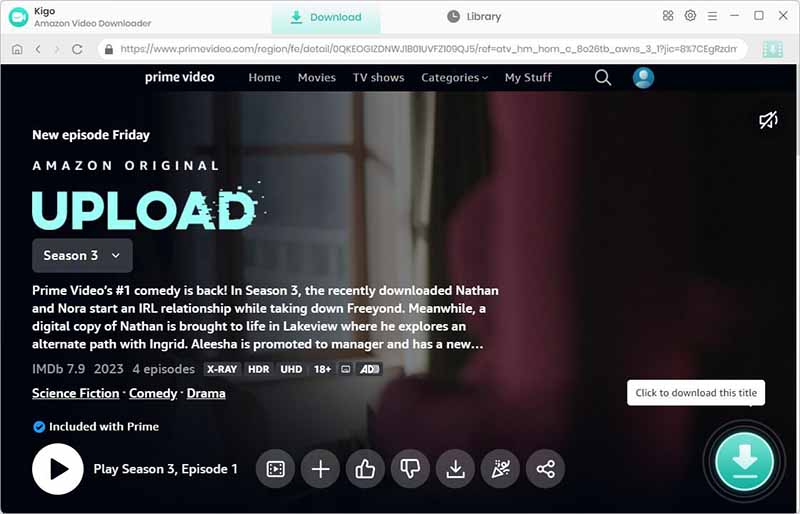 When the gray "Download" button turns green, click the "Download" button. Kigo will automatically parse all information about this video. In the newly listed window, you can select the "Season and Episode" of the episode you want to download.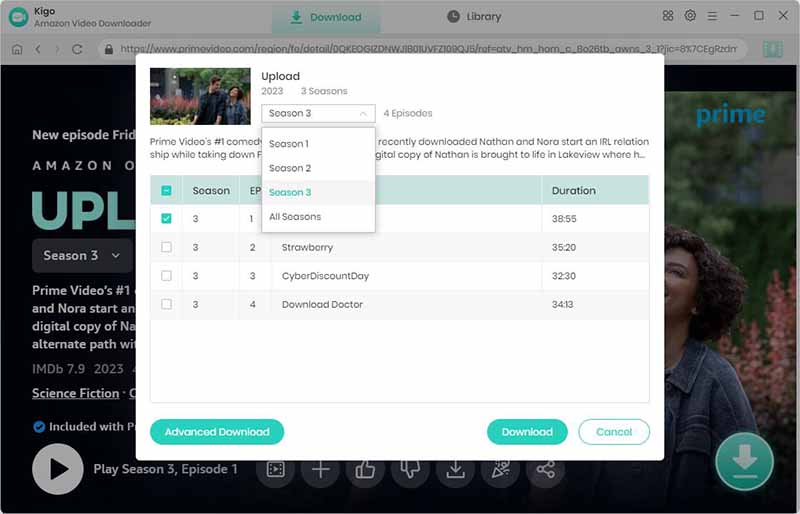 Step 4. Customize "Advanced Download" Settings.
Click the "Advanced Download" button at the bottom left corner of the window to select specific video quality, audio tracks and subtitles with different bitrate.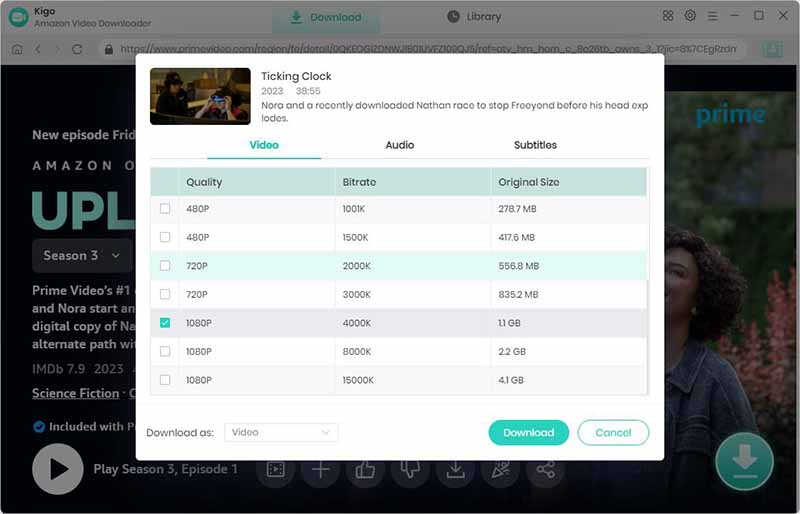 Step 5. Start Downloading Amazon Prime Videos.
Then click the "Download" button to start downloading Amazon movies or TV shows.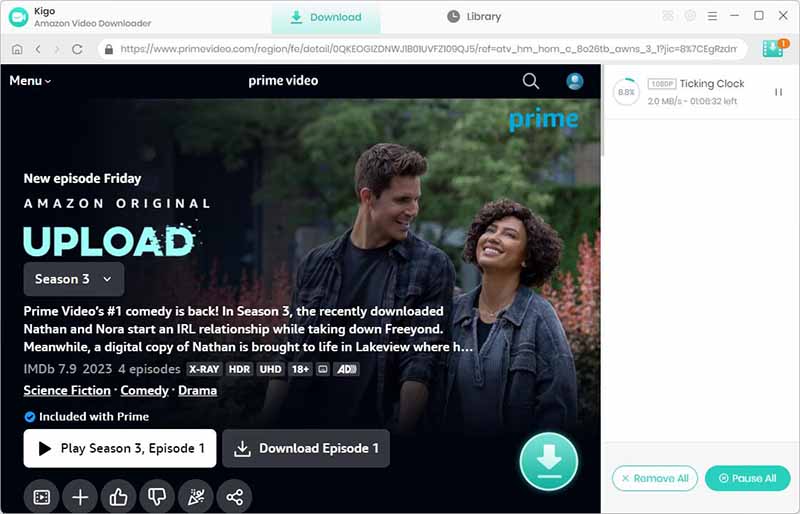 After you start the download, you can go back to the home page to continue to add other videos, the rest of the operation with the above has been.
When the downloading is completed, you can click on Library to find the downloaded Amazon videos.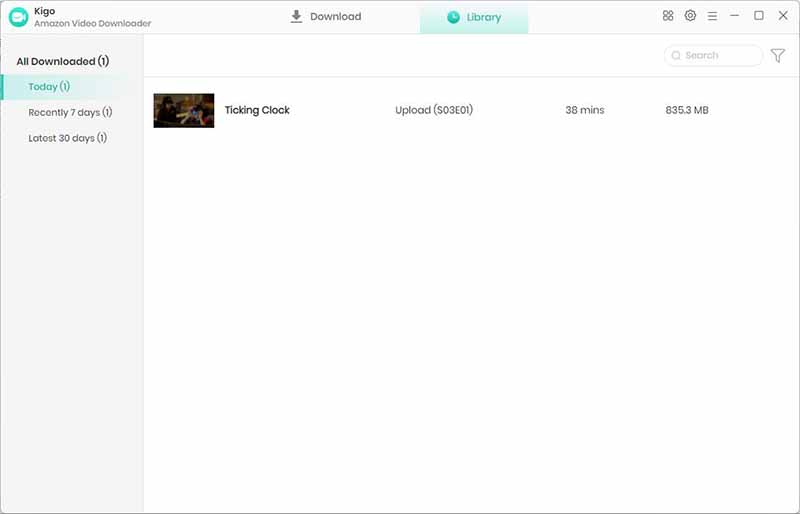 Summary
With Kigo Amazon Video Downloader, there is no need to worry about the Amazon video download limits, and you can also download videos as many as you like. Besides, you'll have your favorite Prime videos stored forever even after the subscription expired

Free Download
Windows 11/10/8/7
100% Secure

Free Download
macOS 10.15-14
100% Secure
Useful Hints
Kindly be aware that the trial version allows downloading only the initial 5 minutes of each video. To fully enjoy the complete video, we recommend purchasing a license. We also encourage you to download the trial version and test it before making a purchase.