Speaking of Amazon, your first thought is that this is an internationally renowned brand that offers millions of high-quality goods for sale. But what makes it a top-tier company is more than just selling goods. Its music streaming services and video streaming services are also critical.
Many people like the massive online video resources provided by Amazon Prime Video. But when you consider canceling the subscription, you will not be able to watch the video. This means you need to pay for its subscription service continuously. And even if you are a premium member, you can only watch downloaded videos through Amazon. In addition, when you cancel the subscription, you have no right to watch any movies or videos.
Thus there is a very popular topic: Can I keep the videos or movies I have downloaded after the Amazon Prime Video subscription ends? If you are looking for a direct way officially, then the answer is negative. But if you follow this tutorial, you will find the answer is positive. In this post, we are going to figure out how to keep videos or movies after the Amazon Prime subscription ends.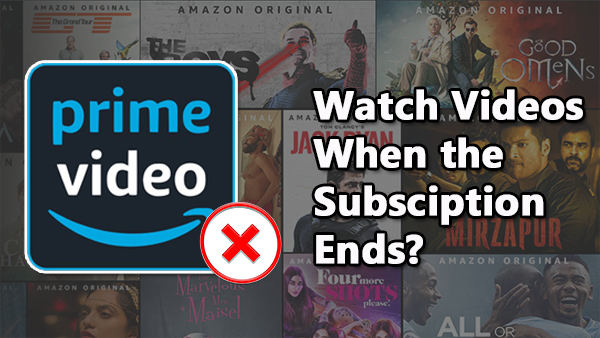 This quick guide shows how to download Videos and Movies from Amazon Prime for permanent preservation. And after downloading videos from Amazon Prime to local files, you can enjoy the playback without the subscription.
Keep Videos/Movies after Amazon Prime Subscription Ends
It's known that videos from Amazon Prime can only be downloaded with encrypted formats. If you are intending to keep these videos after the subscription ends, you need to convert the encrypted videos to common formats when the subscription is valid. Kigo Amazon Prime Video Downloader is an excellent Amazon Prime video downloader that supports extracting videos from Amazon Prime to MP4 or MKV files. After that, you will get rid of the shackles of Amazon Prime. These videos downloaded through Kigo can be permanently in your control. You can enjoy free playback on any device.
Download Amazon movies, TV shows, and original series.
Save Amazon Prime videos to MP4 / MKV.
Select audio tracks and subtitles to keep.
Support up to 1080p HD videos.
Fast speed and easy to operate.
Download for Win
Download for Mac
Step 1. Get Kigo Amazon Video Downloader Installed on Win/Mac
Download and install Kigo Amazon Video Downloader on your Mac or Windows. Run this program when the installation is finished. Choose the right version to download, otherwise, the app can not be launched properly.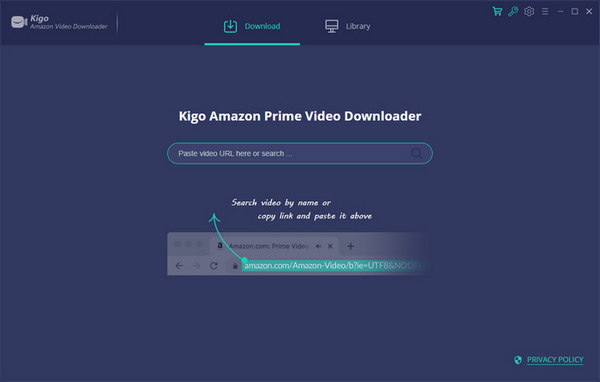 Step 2. Set Output Format and Other Output Parameters.
Before downloading Amazon videos, find a "setting icon" in the top right. Hit on it to set the output format, output video quality, and so on.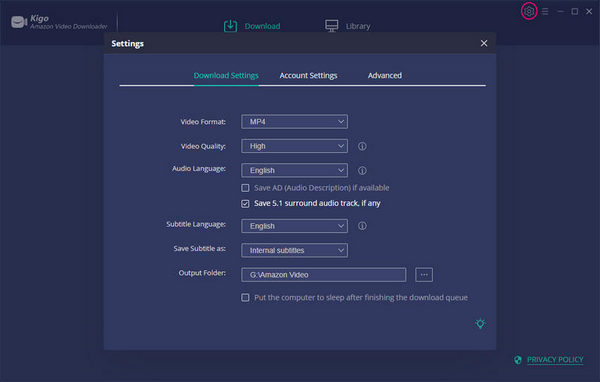 Kigo allows users to download videos from primevideo.com. In the pop-up setting window, tap "Account Setting". Then select "Website" - "primevideo.com".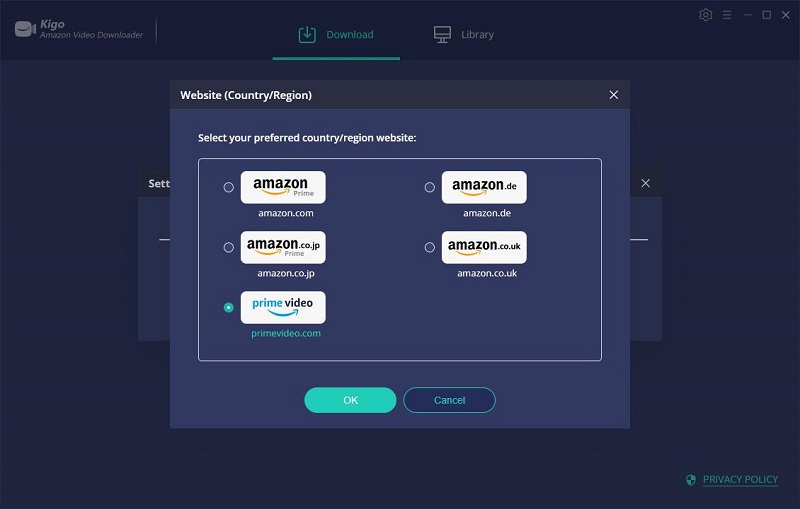 Step 3. Locate Amazon Videos to Download
Now, let's navigate to Amazon videos we need to download. There are three feasible options to locate the videos we need.
◉ 1. Search the videos with titles or keywords.
◉ 2. Copy the video link of primevideo.com and paste it to Kigo.
◉ 3. Drag the video link directly to Kigo.
After locating the videos you need, we are able to select videos we need to download. If you need to check more output parameters before downloading, then go to the next step.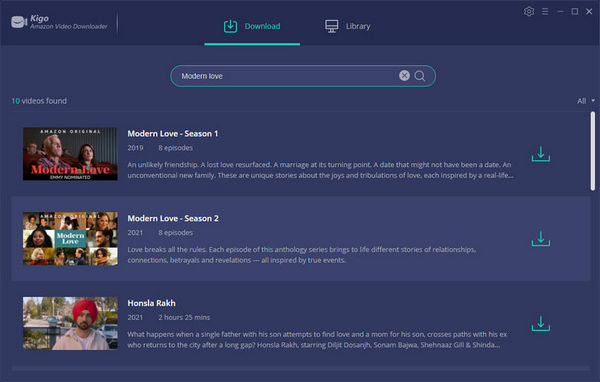 Step 4. Advanced Downloading Setting
Click the "download icon" then tap Advanced Download". Select the video quality, audio, and subtitles. Then click "Download".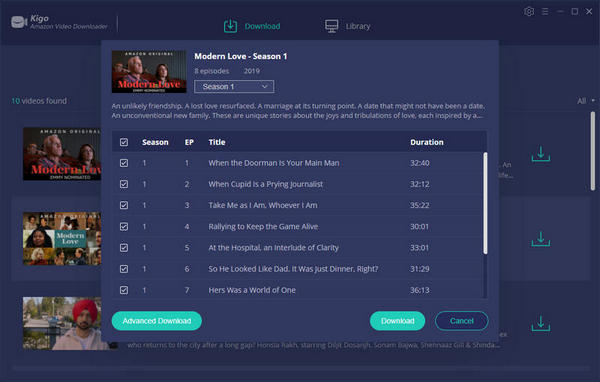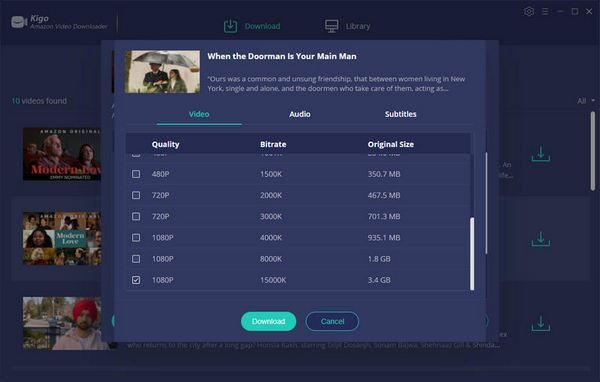 Step 5. Start Downloading Amazon Prime Videos
Now, Kigo starts downloading the selected Amazon videos, movies, or TV shows. Make sure that the network connection is stable. Once the downloading process is completed, you can go to "Library" to find the downloaded Amazon videos. Now the videos or movies from Amazon Prime are saved to local PC in MP4 or M4V formats. You can keep the downloaded videos or movies even after the Amazon Prime subscription ends.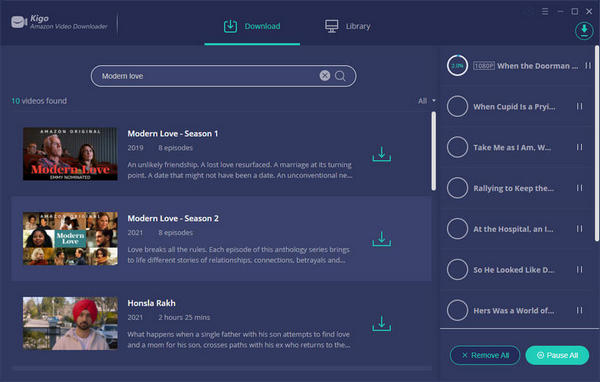 Part 2. How to Cancel Amazon Prime Subscription
Note: If you're an Amazon Prime subscriber, this will cancel your entire Prime plan, not just Prime Video.
Step 1. Open Amazon in any web browser. Then sign in to your Amazon Prime account. When you've signed in successfully, head over to Account & Lists in the top-right. Then select "Your Prime Membership" in a drop-down menu.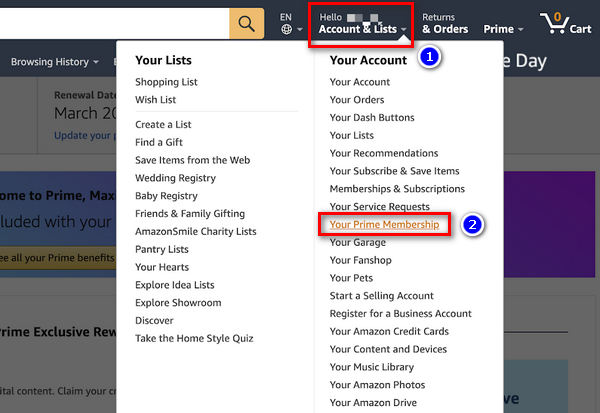 Step 2. Below the "Manage Membership" tab, click "Update your settings". Then in the pull-down menu, find "End membership" and hit on it.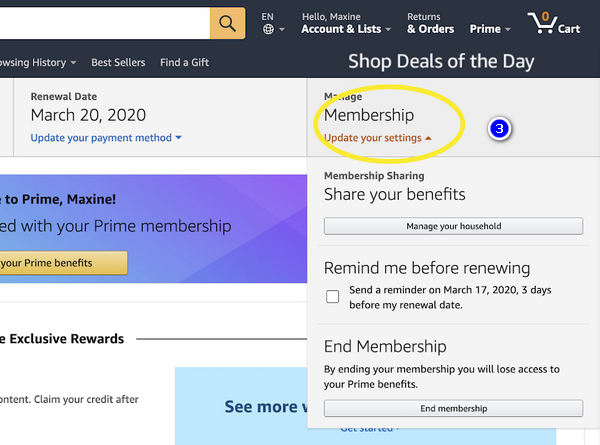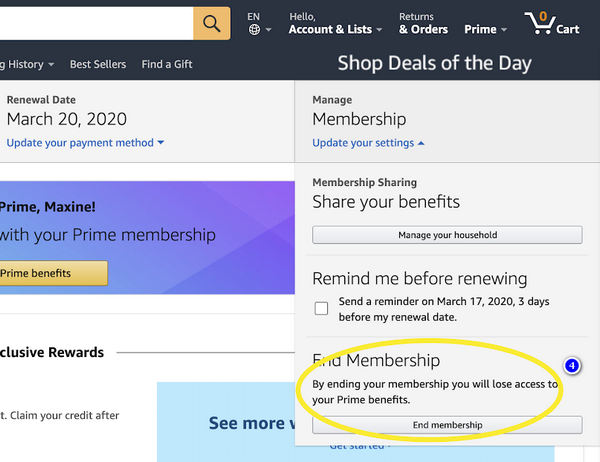 Step 3. From the next page, choose the middle option "Cancel My Benefits".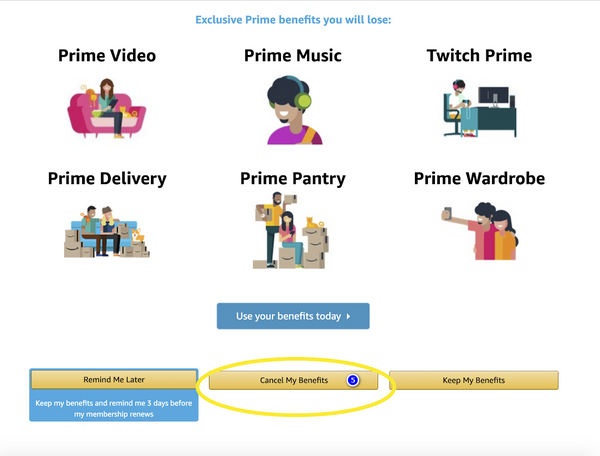 Step 4. Then you will go through several pages. You need to confirm that you want to end the subscription every time. After that, your cancelation is successful. And the membership will be ended.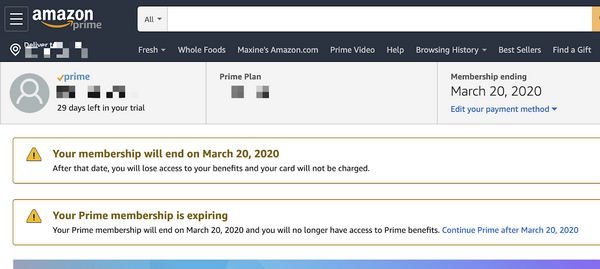 Extra Tips: To solely cancel your Amazon Prime Video plan, you can click on Memberships & Subscriptions to cancel your Amazon Prime Video Plan and Prime Video Channels.
Conclusion
With Kigo Amazon Video Downloader, you've downloaded Amazon videos to MP4/M4V formats to local PC. Now, you can watch and play these MP4/M4V videos anywhere and anytime as you like, and you don't need to worry about when the Amazon Prime subscription ends.
Purchase for Win
Purchase for Mac
Disclaimer
Videos from Amazon™ are copyrighted. Any redistribution of it without the consent of the copyright owners may be a violation of the law in most countries, including the USA. KigoSoft is not affiliated with Amazon™, nor the company that owns the trademark rights to Amazon™. This page is provided for compatibility purposes only, and in no case should be considered an endorsement of KigoSoft products by any associated 3rd party.