Amazon offers over 20,000+ titles of TV shows and movies to choose from, and you can stream the video online on its servers as well as download the videos on your particular devices. Do you know what download restrictions you need to be aware of after downloading videos from the Prime Video app? The following will tell you everything you need to know about Amazon video download limits and show you how to remove them with ease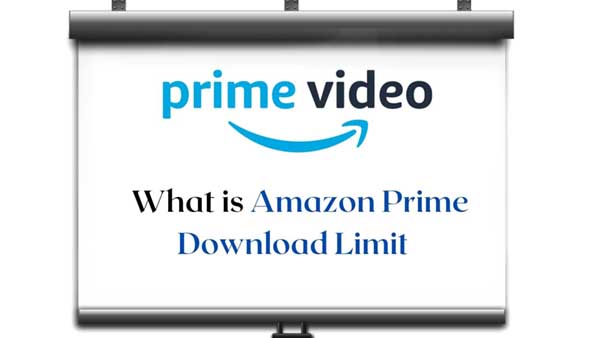 Part 1. What is Amazon Prime Download Limit
Generally speaking, the download limitations of Amazon Prime exist in the following cases
The limit of the number of devices that can play simultaneously
Amazon Prime Videos lays restrictions on the number of devices that can simultaneously stream videos from the same Amazon Prime account.
You're only allowed to view three different titles (videos) simultaneously using the same Amazon account. You can also only watch the same video on two different devices.
If you have already downloaded a title to two devices, you will need to delete it from one of them before downloading it to another device.
It set a maximum number of titles that can be downloaded at a time across Prime or Prime Video and third-party add-on video subscription titles across all devices associated with your Amazon account which may vary based on your location and other factors.
While not all subscription titles are available for download, the same videos may be available for rental or purchase from Amazon Prime Video, which can then be downloaded to compatible devices.
The limit of the number of downloads available
You can download 15 to 20 titles but it all depends on the region you are using the streaming service.
Amazon Prime video does not allow all the downloads for all the videos. You can see the download option when you open the video. If the download option is not available then you cannot download the title.
The limit of the valid time of the downloaded video
Amazon Prime has not given a particular time limit for the videos but you can have them on your app for 30 days. Once you've started the video, you'll have about 48 hours before your device will be required to connect to the internet again to refresh the video.
Amazon prime video does not allow its users to download the videos to other video devices due to copyright issues. Users can only view it offline from the app which prevents its users from downloading the file.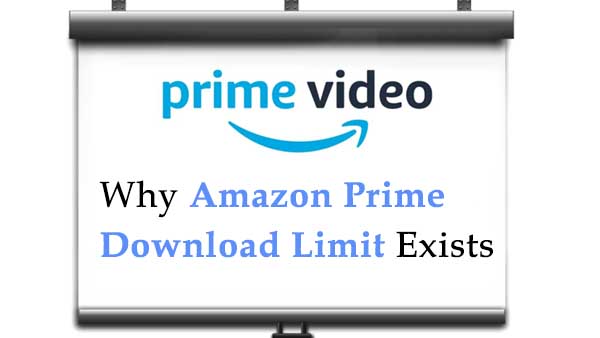 Part 2. Why Amazon Prime Video Download Limit Exists
As described in the Amazon Prime Video Terms of Use, due to limitations imposed on Amazon by the content suppliers, the videos Amazon make available to you on Amazon Prime Video are subject to restrictions on viewing (for example, through streaming or download) and on the length of time they make them available to you.
The specific restrictions applicable to each of your videos depend on whether you access a video through purchase, rental, paid subscription or promotional trial, or for free.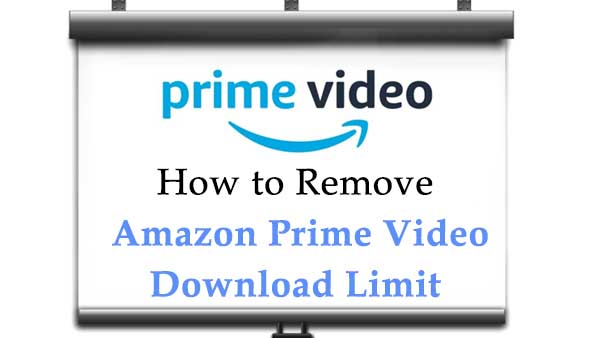 Part 3. How to Remove Amazon Prime Video Download Limit
Downloading the videos and playing them offline is a particularly great option if your internet is poor or you plan to travel, etc. If there is a way to remove Amazon Prime Video download restrictions, that would be great. Don't be discouraged, keep reading and you will find the answer.
To remove the Amazon Prime Video download limit, you cannot still use the primary download method, and you need to replace your old download method with a new one. Kigo Amazon Video Downloader is exactly what you are looking for. Kigo enables users to download various video content from Amazon.com, Amazon.co.uk, Amazon.jp, Amazon.de, and primevideo.com, and save them in MP4 or MKV format with 5.1 audio and up to 1080p quality.
Download Amazon movies, tv shows, and original series.
Save Amazon videos to MP4 / MKV format.
Select some or the whole audio tracks and subtitles to keep.
Download up to 1080p HD videos.
Fast speed and easy to operate.
Download for Win
Download for Mac
Download Amazon Videos Offline to Unlock the Download Limit
Step 1. Custom output setting.

After the installation is complete, start the program. Click the "Settings" icon on the upper right corner of Kigo to set the video format (MP4 / MKV), video quality (Low / Medium / High), the language of audio tracks and subtitles, and so on.

Besides, please choose the website you are using to access Amazon Prime Video on the "Account Settings" window.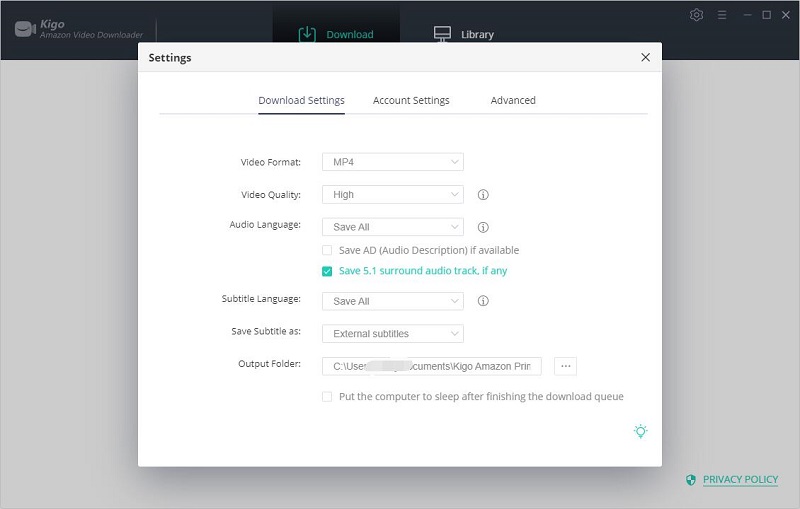 Step 2. Add Amazon Prime videos to Kigo.
There is a smart search engine built-in in Kigo, so you can enter the video title or keywords to search Amazon Prime videos directly. Generally speaking, the search results are the same as what you search on web browsers. What's more, you can also copy or drag and drop the video link to the program.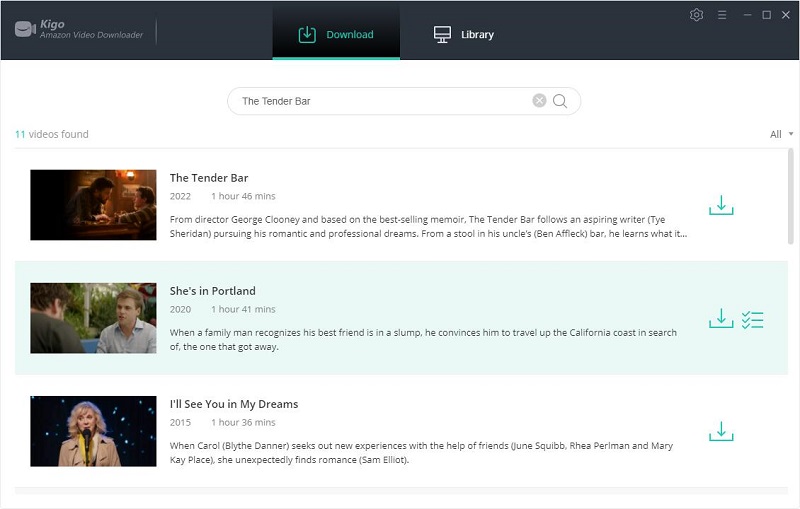 If this is your first-time use, please log in with Amazon Prime account to go on.
Step 3. Select and "Advanced Download" settings.
Once the video is listed on Kigo, you can continue with further settings. Kigo Amazon Video Downloader also offers the "Advanced Download" option that allows you to select specific video quality, audio tracks, and subtitles with different bitrates.
For movies, click the "Advanced Setting" icon next to the download icon.
If you would like to download a TV show, click the "Download" icon, followed that a window will pop up allowing you to select the season and episode, and click the "Advanced Download" button at the bottom left corner of the window to set the video quality, audio track and subtitles.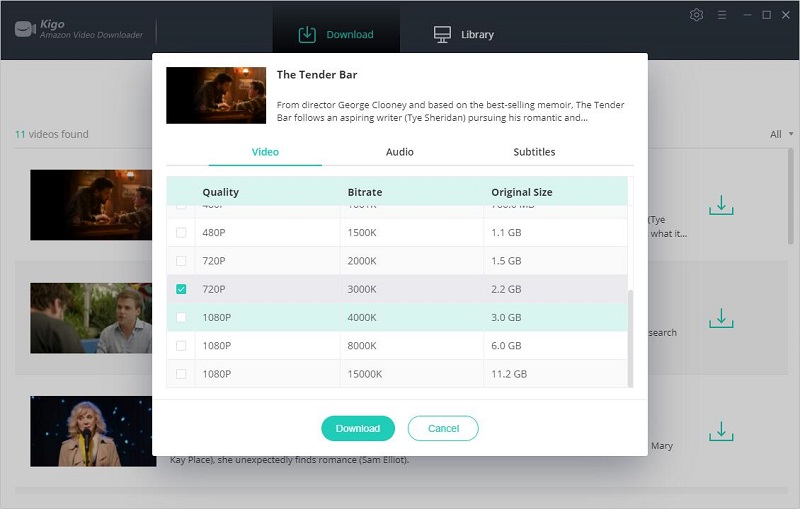 Step 5. Start to download from Amazon Prime.
Now you can click the "Download" button to start.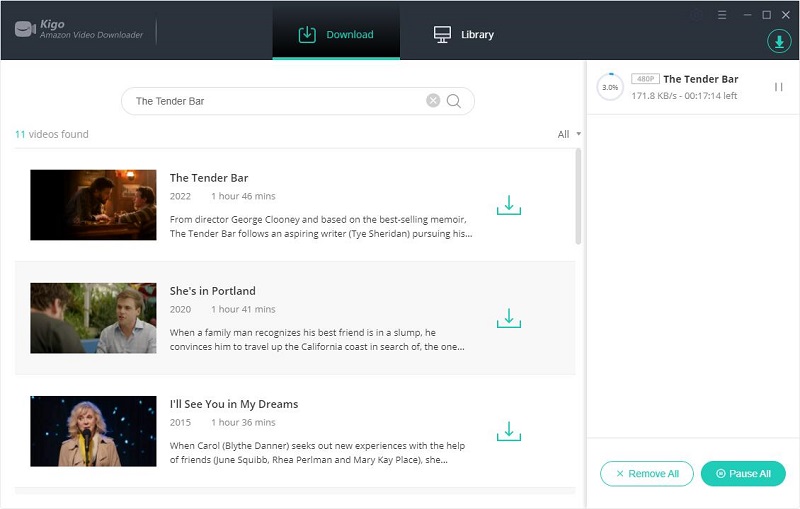 Once the download is complete, you can quickly locate the downloaded video by clicking on Library - Folder icon. You can then play these downloaded videos on Windows Media Player, VLC Media Player, or transfer them to USB Drive or SD Card as you wish.
Purchase for Win
Purchase for Mac
Conclusion
There are so many Amazon Prime download limits that you need to pay attention to if you download videos with Amazon Prime app. To remove those limits, the third-party downloading tool - Kigo Amazon Video Downloader is what you need.