How to Fix Disney Plus Download Issues
---
Disney Plus enables users to download Disney Plus titles on the supported mobile device, such as Apple iPhones / iPads / iPod touch, Android phones/tablets, Amazon Fire tablets, and Windows 10 & 11 tablets and computers, so users can watch their favorite Disney+ movies and series on the go even when they don't have an internet connection. Sometimes there will be some problems, for example, if you're having trouble downloading or playing downloaded video content on your supported mobile device, how to fix it? This article will tell you how to fix your Disney Plus download issues step by step.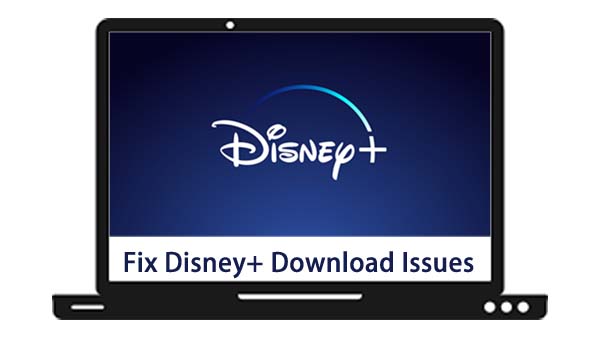 How to download movies and episodes via the Disney Plus app
This method is only valid on the supported mobile devices. With the Disney Plus app, you can download movies and TV episodes offline. To download Disney+ content to your supported mobile device, just follow the next steps:
Step 1. Launch the Disney Plus app
Step 2. Locate and select the movie or episode you want to download.
Step 3. Tap the Download button on the Details page to begin downloading.
Once started, you can view the progress of your download. And you can also tap the download progress icon to pause or remove the partial download.
Step 4. A device icon with a tick will display when your download is complete
Please note that some titles may be unavailable for download from Disney Plus.
Part 2. Troubleshooting Download issues
If you're having trouble downloading or playing downloaded content on your supported mobile device, try the following:
Check available storage space on a device.
Force close and relaunch the Disney Plus app
Power down and restart your device
Update to the latest version of the Disney Plus app
Delete and redownload the movie or episode
In addition to the above-mentioned problems that may cause the downloaded video, there may also be the following reasons that the downloaded video cannot be played normally. The following could also play a factor in accessing or downloading content:
Movie or episode may be temporarily unavailable.
Downloaded content was removed by logging out of your account.
Downloaded content was removed because the device was not connected to the internet at least once within 30 days.
The same movie or episode can only be downloaded on up to 10 supported mobile devices.
Some titles may be unavailable for download from Disney Plus.
Part 3. Download Disney Plus videos to local with Kigo DisneyPlus Video Downloader
Downloaded video content will remain on your device as long as you are an active Disney Plus subscriber and connect to the internet with your device at least once every 30 days. You can download the same title on up to 10 supported devices with available storage space. If you don't like these download restrictions and want to download Disney Plus video content locally, how to do it?
Kigo DisneyPlus Video Downloader is exactly what you are looking for. It is mainly used to help users download Disney Plus movies, TV series and documentaries to local, and store them in MP4 or MKV format. Besides, all audio tracks and subtitle files can also be downloaded, and the subtitles can be stored as separate subtitle files.
Download movies, and TV shows including original series from Disney Plus.
Save Disney+ videos to MP4 / MKV format.
Select some or the whole audio tracks and subtitles to keep.
Download Disney+ HD videos.
Support 5.1 audio kept.
Save up to 75% time compared to screen recording type programs.
Fast speed and easy to operate.

Free Download
Windows 11/10/8/7
100% Secure

Free Download
macOS 10.15-13
100% Secure
According to your system, tap the download button above to download the right version and install it on your computer.
Step 1. Output settings.
After you run Kigo on your computer, just click on the Settings icon on the top right corner of the window to set the output format (MP4 / MKV), video quality (Low, Medium / High), and so on. Here we choose MP4 as the output video format.
And you can also set the audio language, and subtitle language as you need. You can choose to save subtitles as internal subtitles, external subtitles, or hardcode subtitles, and select the video codec between H.265 and H.264.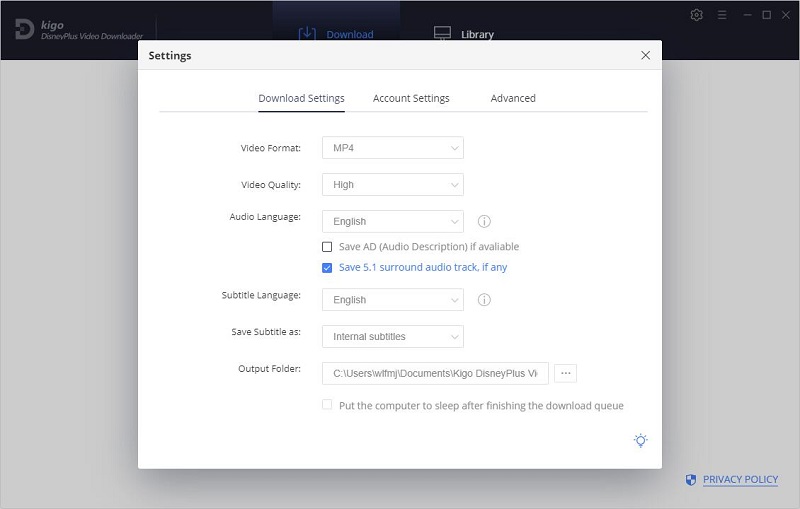 Step 2. Add Disney Plus videos to Kigo.
There are different methods to add Disney Plus videso to Kigo. You can use the video title to search and then add it to Kigo to download, copy the Disney Plus video's link URL and paste it to download, or drag the video's link directly to Kigo. Please note that Kigo will automatically recognize the video link on the clipboard and search.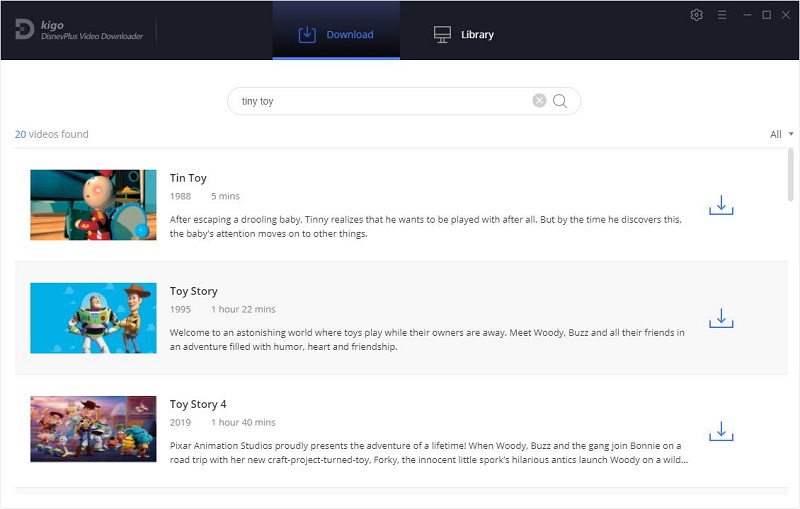 Please note that if this is your first-time login, you need to log in with your Disney Plus account to go on. After the login, now the search results will list on the program.
Step 3. Select and advanced download settings.
Kigo added "Advanced Download" settings to allow you to select the audio track and subtitle as needed. If you try to download a movie, please click

to open the Advanced window. From the Advanced download setting window, you can set the audio track and subtitle more finely.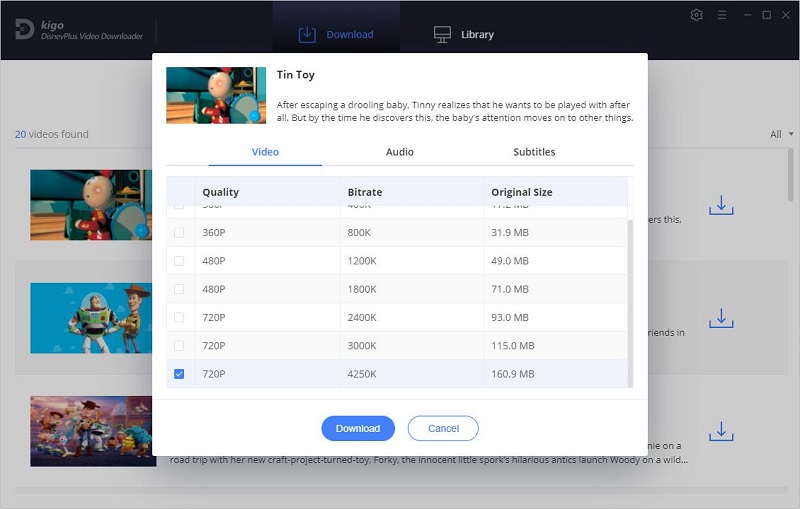 Step 4. Start to download.
After you complete the above settings, you can click the download button to start the download.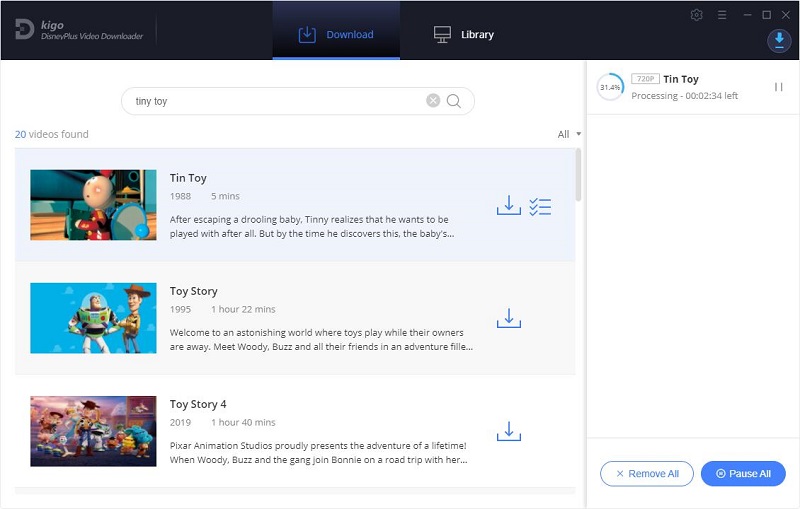 Conclusion
Among the different download methods, we strongly recommend that you use Kigo DisneyPlus Video Downloader to download movies or TV series locally, so that you don't need to worry about various download restrictions. You can also play these downloaded videos as usual when you unsubscribe the Disney+.

Free Download
Windows 11/10/8/7
100% Secure

Free Download
macOS 10.15-13
100% Secure
Useful Hints
Kindly be aware that the trial version allows downloading only the initial 5 minutes of each video. To fully enjoy the complete video, we recommend purchasing a license. We also encourage you to download the trial version and test it before making a purchase.
---
Videos from Disney™ are copyrighted. Any redistribution of it without the consent of the copyright owners may be a violation of the law in most countries, including the USA. KigoSoft is not affiliated with Disney™, nor the company that owns the trademark rights to Disney™. This page is provided for compatibility purposes only, and in no case should be considered an endorsement of KigoSoft products by any associated 3rd party.