Everything about 4K content on Disney Plus You Want to Know
Disney Plus currently offers over 100 titles in 4K, from iconic classics (The Lion King, X-Men) to modern favorites and Original series. Unlike Netflix, users do not need an additional subscription service to enjoy 4K content. Next, the article will show you how to find 4K video quickly and the various conditions that you want to play 4K video.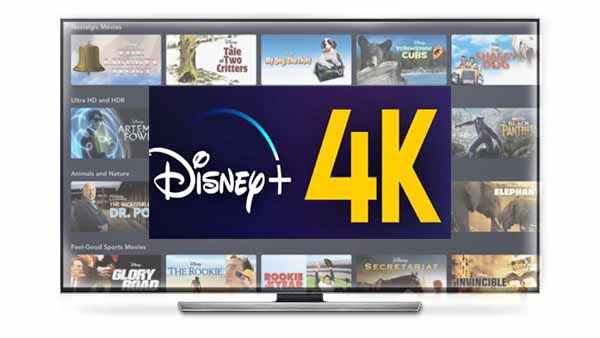 How to Find 4K Content on Disney Plus
You can follow the next steps to find all the 4K content on Disney Plus quickly. There are about 900 movies and 300 TV series available to stream on Disney Plus. While the majority of them are only available in HD, there are 100-odd titles ready to stream in glorious 4K UHD (Ultra High Definition)
1. Click the Search menu (it's just a magnifying glass icon on some devices).
2. Click Movies.
3. Click the filter options (on some devices, this is a drop-down that defaults to Featured) and select Ultra HD and HDR.
4. All content now displayed offers 4K resolution.
Tips to Watch 4K content on Disney Plus
To stream Disney Plus video in 4K, you'll need a Disney Plus subscription, a compatible smart TV with the Disney Plus app, a high-speed internet connection of at least 25Mb, or a connected media streaming device.
4K video needs a lot of bandwidth. While Disney Plus doesn't provide specific guidelines for 4K streaming, expect to need at least a 25 Mbps internet connection for the best experience.
Not all streaming devices support 4K resolutions. You can watch Disney Plus content with 4K capability on the following device: Amazon Fire TV 4K, Android smart TVs, Apple TV 4K, Google Chromecast, LG smart TVs, Roku, Samsung smart TVs, Xbox One, Xbox Series X | S.
Disney Plus can't Play 4K on the Browser, Why?
Disney+ launched an app for Windows 10 and 11 in October 2021. The app has 4K support. Before the app launched you could only play Disney Plus on the browser, Disney+ does not support resolutions higher than 720p in a browser and it will stream at that resolution and then likely get upscaled by your computer.
Tips to Download Disney Plus Videos Offline from the Browser
When you don't have the built-in Disney Plus app on your devices and you want to play Disney Plus videos on those devices, especially some outdated smart devices, you can only play those videos via USB or SD Card. You can try downloading these videos and transferring them to your USB or SD card via Kigo DisneyPlus Video Downloader.
Kigo DisneyPlus Video Downloader help various users download Disney movies, TV series, and documentaries locally and store them in MP4 or MKV format with up to 720p at a fast speed. You can also choose to keep the audio tracks and subtitle files throughout the download process. And there are up to 26 installer languages on Kigo to meet the needs of users in different regions.
Download movies, TV shows including original series from Disney+.
Save Disney Plus videos to MP4 / MKV format.
Select some or the whole audio tracks and subtitles to keep.
Download Disney+ HD videos.
Support 5.1 audio kept.
Consume less time to download videos.
Fast speed and easy to operate.

Free Download
Windows 11/10/8/7
100% Secure

Free Download
macOS 10.15-14
100% Secure
If this is your first time using Kigo to download videos, then choose the appropriate version to download and install according to your computer system. The next tutorial video will be an example of the Windows version, the same tutorial is used for the Mac version.
Step 1. Output Format and Other Related Settings.
After the installation is complete, launch Kigo on your computer, and then tap on the Settings tab to set the output video format (MP4 or MKV), video quality (High, Medium, and Low), audio language, subtitle language, output folder and so on. Also, you can choose to save the subtitles to Internal, External, or Hardcode subtitles.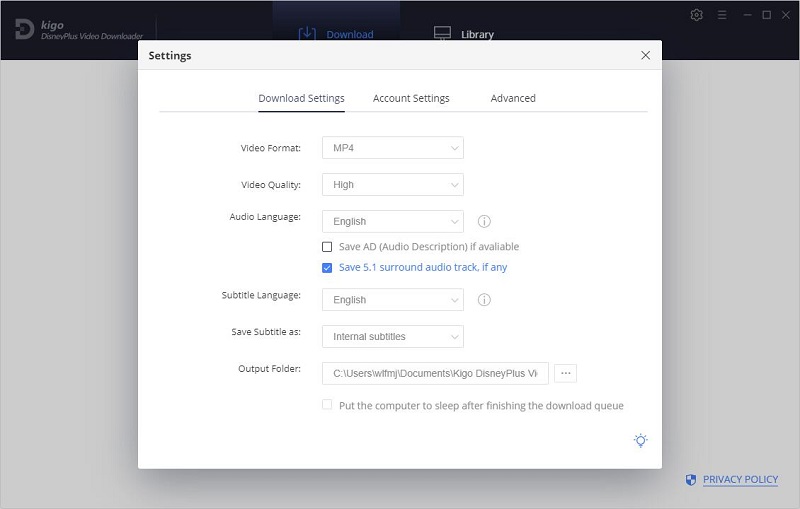 In the Advanced column, you can choose the appropriate video codec, H.264 and H.265, and set the proxy according to your needs.
Step 2. Add Videos from Disney Plus to Kigo.
Kigo's built-in search engine has powerful search and parsing capabilities. Enter the name or keyword of the TV show you want to download in the search bar, then click "Search," and Kigo will automatically search and list related video programs. In the upper right corner you can also filter by movies and TV Series. Of course you can also search and add videos by copying the video link.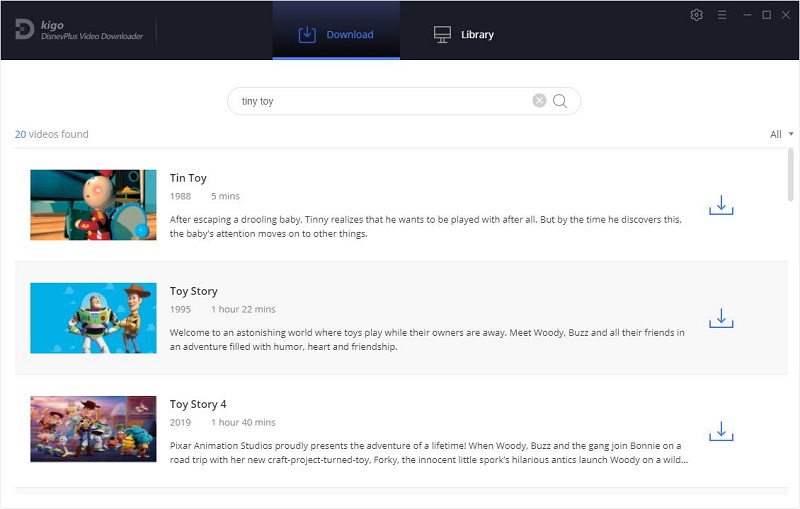 Please note that Kigo DisneyPlus Video Downloader will not take any information out of your account. More declaimer about privacy. And KigoSoft strictly complies with the US Copyright Regulations.
Step 3. Select "Advanced Download" Settings.
Click the "Download" button to select the season and the episode. And then click "Advanced Download" to choose the audio track and subtitles in the bottom left corner.
If the content you try to download is a movie, please click

to open the "Advanced Download" window.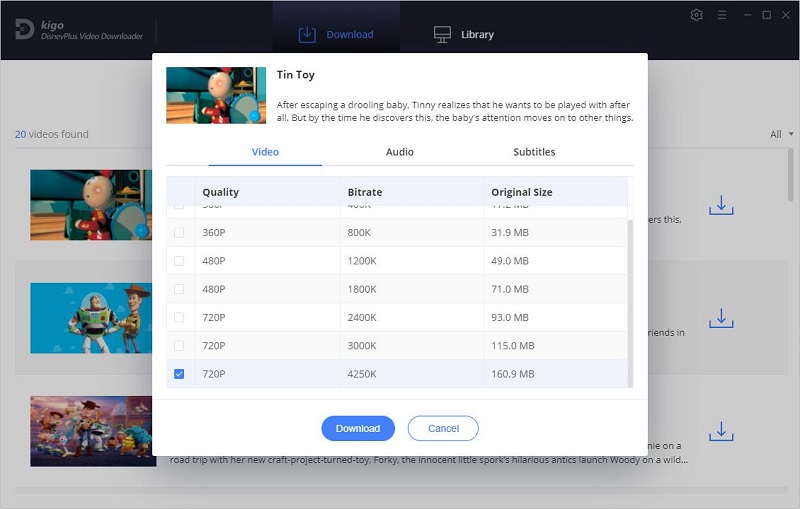 As mentioned above, Disney Plus plays in the browser at a maximum quality of 720p, so the best quality Kigo can support for downloads is also 720p.
Step 4. Start to Download Videos from Disney Plus.
Now, you can click the "Download" button to start downloading the video you want.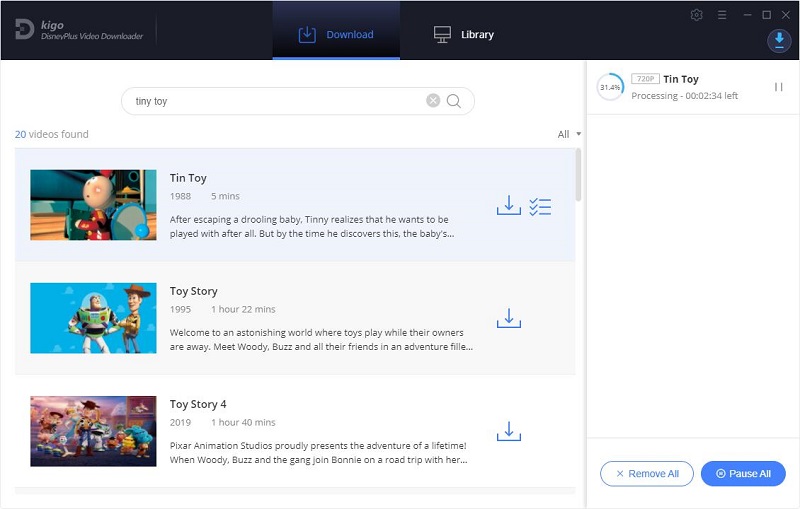 Once the downloading is completed, insert the SD Card into the built-in SD card slot on your computer, or insert your USB drive into your computer, and you can drag the downloaded video to the USB or SD Card. You can also watch these videos on VLC Media Player, Windows Media Player and so on.
Summary
The ability to watch 4K video without additional overhead is what makes Disney Plus more user-friendly than Netflix. Of course, compared to Netflix, the amount of Disney Plus 4K content needs to be further improved. If you want to play Disney Plus videos on older devices that don't support the Disney Plus app embedded in them, you can try downloading them to a USB using Kigo DisneyPlus Video Downloader and playing them.
Please note that only the first 5 minutes of each video can be downloaded with the trial version, please purchase a license to enjoy the full video. It is suggested that to download the trial version and have a test before purchasing it.

Free Download
Windows 11/10/8/7
100% Secure

Free Download
macOS 10.15-14
100% Secure
Useful Hints
Kindly be aware that the trial version allows downloading only the initial 5 minutes of each video. To fully enjoy the complete video, we recommend purchasing a license. We also encourage you to download the trial version and test it before making a purchase.
---
Videos from Disney™ are copyrighted. Any redistribution of it without the consent of the copyright owners may be a violation of the law in most countries, including the USA. KigoSoft is not affiliated with Disney™, nor the company that owns the trademark rights to Disney™. This page is provided for compatibility purposes only, and in no case should be considered an endorsement of KigoSoft products by any associated 3rd party.