How to Download Disney Plus Videos to SD Card
Sometimes, when you find a TV episode from Disney Plus you like and want to try to download it to your computer, but the computer memory is not enough, or you want to transfer the video to an SD Card, and then you can go to the car audio and video system to play the downloaded video via the SD card, you can try to download Disney Plus videos to the SD card. The next tutorial will show you step by step how to download Disney Plus videos locally and transfer the downloaded videos to your SD card.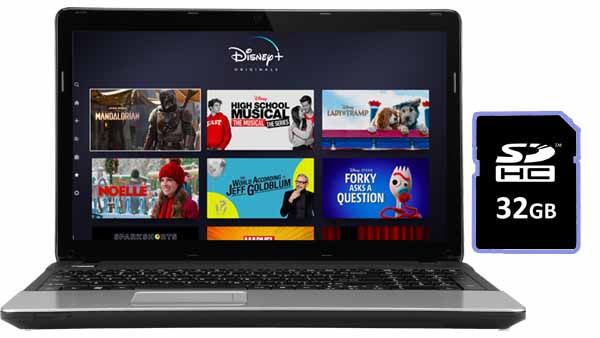 What is an SD Card Used for
An SD card is a tiny flash memory card designed for high-capacity memory and various portable devices, such as car navigation systems, cellular phones, e-books, PDAs, smartphones, digital cameras, music players, digital video camcorders, and personal computers.
Users always use an SD card inserted into a device in order to increase the device's available storage. This means that no matter what the memory capacity of your original device is, you can achieve the result of expanding the memory with an SD card. By using an SD card, you can manage and store larger amounts of procured data on your Android mobile device.
Many computers now have built-in card readers, so if you are using an SD Card, not microSD, you can insert it directly into the card reader slot, and your SD Card is then equivalent to a USB drive.
Where are Disney Plus Downloads Stored
All Disney+ content is currently downloaded to your supported mobile device by selecting the Downloads icon on the Home screen.
You can only download videos with the Disney Plus app on your supported mobile device. Unlike iPhone, if your phone or tablet has a microSD card slot for additional storage, you can go into App Settings and tap on the Download Location option. You can then switch between your device's internal storage or your installed microSD card.
Download Disney Plus Videos and Transfer them to SD Card
If you want to download videos from Disney Plus on your computer and transfer them to your SD card, Kigo DisneyPlus Video Downloader can be of great help to you. With it, you can easily and quickly download Disney movies, TV series, and documentaries locally and store them in MP4 or MKV format at a fast speed. You can also choose to keep the audio tracks and subtitle files throughout the download process. And Kigo supports up to 26 installer languages to meet the needs of users in different regions.
Download movies, and TV shows including original series from Disney Plus.
Save Disney+ videos to MP4 / MKV format.
Select some or the whole audio tracks and subtitles to keep.
Download Disney+ HD videos.
Support 5.1 audio kept.
Save up to 75% time compared to screen recording type programs.
Fast speed and easy to operate.

Free Download
Windows 11/10/8/7
100% Secure

Free Download
macOS 10.15-14
100% Secure
If you are a new user, please select the appropriate version for your computer system and click the Download button above to download and install the latest version of Kigo DisneyPlus Video Downloader to your computer. For the next tutorial we will take the Windows example, the Mac version will work the same as the Windows version.
Step 1. Output Format and Other Related Settings.
Launch Kigo on your computer, and then tap on the Settings tab to set the output video format (MP4 or MKV), video quality (High, Medium, and Low), audio language, subtitle language, output folder and so on. Also, you can choose to save the subtitles to Internal, External, or Hardcode subtitles.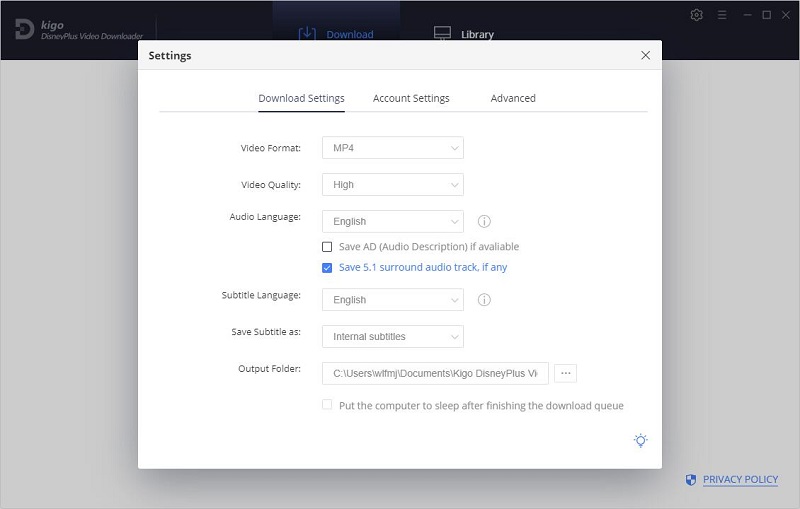 In the Advanced column, you can choose the appropriate video codec, H.264 and H.265, and set the proxy according to your needs. Also, the program sets the recommended maximum number of downloads per day.
Step 2. Search and Add Videos from Disney Plus to Kigo.
Enter the name or keyword of the TV show you want to download in the search bar, then click Search, and Kigo will automatically search and list related video programs. In the upper right corner you can also filter by movies and TV Series. Of course you can also search and add videos by copying the video link.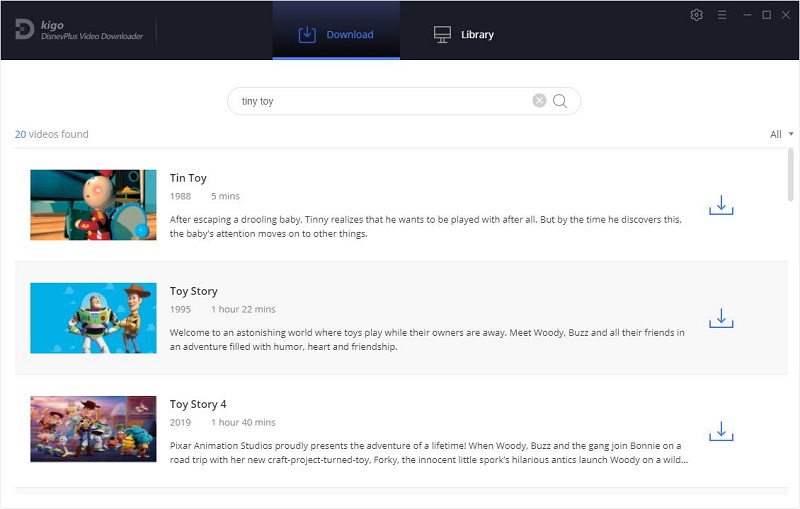 Please note that Kigo DisneyPlus Video Downloader will not take any information out of your account. More declaimer about privacy. And KigoSoft strictly complies with the US Copyright Regulations.
Step 3. Select "Advanced Download" Settings.
Click the Download button to select the season and the episode. And then click "Advanced Download" to choose the audio track and subtitles in the bottom left corner.
If you try to download a movie, please click

to open the "Advanced Download" window.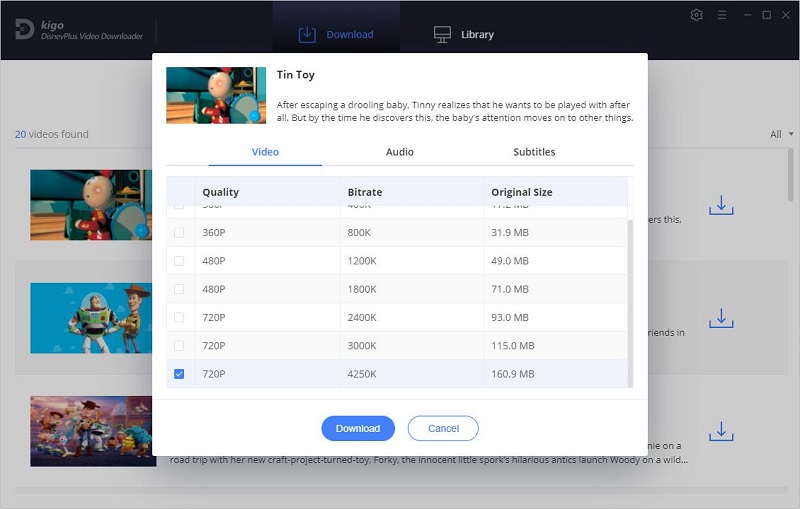 Step 4. Start to Download Videos from Disney Plus.
Finally, when you have finished the above setup work, you can click the download button to start downloading the video you want.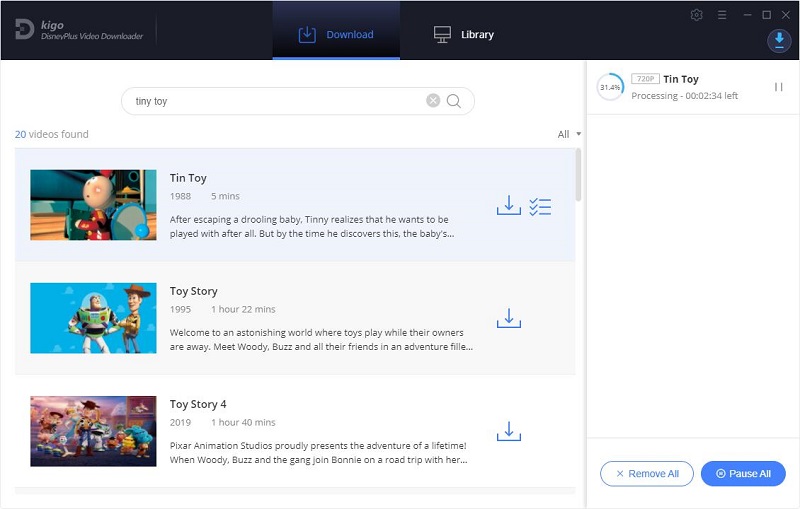 Step 5. Transfer Disney Plus Videos to the SD Card on PC.
1. Once the downloading is completed, insert the SD Card into the built-in SD card slot on your computer. If not, you need connect the SD Card with a card reader and then insert to the computer.
2. Head to the folder saving the downloaded videos, select and copy all of them.
3. Go to My Computer or This PC, find and open the SD Card and paste the downloaded Disney Plus video files into the external storage device by using Ctrl + V.
4. Once the video file has successfully transferred onto SD Card, you can safely eject it.
Summary
SD cards are sometimes used as USB, but they are more flexible, especially for devices that do not support USB, so SD cards give users an additional option. When you use Kigo DisneyPlus Video Downloader to download and store videos to the SD card, you can play them anywhere, anytime, on many different devices.

Free Download
Windows 11/10/8/7
100% Secure

Free Download
macOS 10.15-14
100% Secure
Useful Hints
Kindly be aware that the trial version allows downloading only the initial 5 minutes of each video. To fully enjoy the complete video, we recommend purchasing a license. We also encourage you to download the trial version and test it before making a purchase.
---
Videos from Disney™ are copyrighted. Any redistribution of it without the consent of the copyright owners may be a violation of the law in most countries, including the USA. KigoSoft is not affiliated with Disney™, nor the company that owns the trademark rights to Disney™. This page is provided for compatibility purposes only, and in no case should be considered an endorsement of KigoSoft products by any associated 3rd party.