Kigo HBOMax Video Downloader Review
HBO Max is an over-the-top subscription service owned and operated by Warner Bros. Discovery and run through Warner Bros. Entertainment. It distributes a number of original shows, including original series, specials, miniseries, documentaries, and films.
There are a wide array of TV shows and movies from a vast digital library of HBO, Warner Bros, Cartoon Network, Adult Swim, etc. on HBO Max for users to watch. Offline downloading is one of the most critical features of any streaming app. Similar to other streaming apps, you can download shows and movies on your phone or tablet and watch them later when you're offline. To download a show or movie from HBO Max, tap "Download" on the show or movie's details page. You can find the content you've downloaded in the HBO Max app by tapping the "Profile" icon and then going to the "Downloads" tab.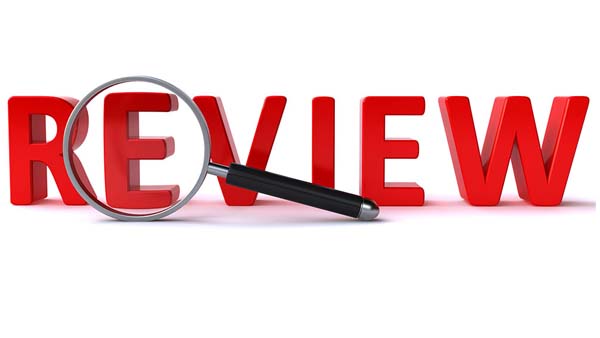 If you want to download HBO Max video content offline on a PC / Mac, The above download method will not work. Kigo HBOMax Video Downloader is the best choice for users to download HBO Max videos to computers offline, which helps users watch movies and TV shows premiered on HBO Max for free.
Who needs Kigo HBOMax Video Downloader?
The ones who want to download HBO Max videos with an Ad-supported plan
HBO Max now offers an ad-free plan ($14.99 per month) and an ad-supported plan ($9.99 per month). Ad-supported plan doesn't support offline downloads. When you only subscribed to the ad-supported plan, and want to download video content for offline viewing, Kigo HBOMax Video Downloader is one excellent solution.
The ones who want to remove HBO Max download limits
As you know, there are several HBO Max download limits, for example, only users who have an ad-free subscription plan of HBO Max can download movies and TV shows on their tablets or mobile phones. One user account can have 30 downloads on all devices. However, downloads that are incomplete and unwatched get expired after 30 days or 48 hours. When you download HBO Max videos with Kigo, there is no need to worry about the download limit.
The ones who want to save HBO Max to external storage
When you download videos in HD quality, these downloaded files generally occupy a large amount of storage space. When you are downloading with HBO Max app on mobile devices, you may not have enough memory to download many videos. When you download videos with Kigo, you don't have to worry at all, you can transfer the downloaded videos to an external storage device such as a removable hard drive, USB drive or SD Card.
The ones who want to keep videos which will leave HBO Max
Except for the original videos, not all videos are permanently on HBO Max due to copyright restrictions on some videos. At the end of each month, HBO Max has a reminder of the new videos that will be on and the videos that will be leaving the following month. If you don't have enough time to watch these videos, then downloading them while they are still on HBO Max is a good solution. Kigo HBOMax Video Downloader even simplifies the downloading and saving of videos forever.
Features of Kigo HBOMax Video Downloader
What makes Kigo stand out from the crowd of downloader tools? The next features tell you the answer.
Download HBO Max movies, shows, and video content to the PC / Mac.
Save HBO Max videos in HD MP4 and MKV video formats.
Up to 25 languages supported.
Select multilingual subtitles and audio tracks.
Support H.264 and H.265.
Support 5.1 Surround sound and 2.0 Stereo sounds.
Remove Ads during the downloading.
One button to download all seasons of the TV series.
Download HBO Max videos in batch.
Built-in smart search engine.
Retain meta information of the video.
System requirements for Kigo HBOMax Video Downloader
In order to ensure that users can easily download HBO Max videos successfully, there is a basic requirement for the computer system as follows.
For Windows pc, the minimum system requirements are Windows 7/8/9/10.
For Apple devices that have the standard Mac OS, the minimum system requirements are Mac OS X 10.11, and later.
How to use Kigo HBOMax Video Downloader
Kigo HBOMax Video Downloader provides you a simple solution to download HBO Max movies and TV series in MP4 or MKV format with up to 720p. It also supports different audio tracks or subtitles kept. For subtitles, it allows you to save subtitles as "Internal Subtitles", "External Subtitle", and "Hardcode Subtitles" to meet the requirements for subtitles.
Kigo HBOMax Video Downloader
Download movies and TV shows from HBO Max to PC / Mac.
Select some or the whole audio tracks and subtitles to keep.
Download HBO Max videos to MP4 / MKV with HD videos.
Support AC3 and 5.1 audio downloading.
Fast speed and easy to operate.
Download for Win
Download for Mac
Please note that Kigo HBOMax Video Downloader is available in both Windows version and Mac versions. You can choose the appropriate version to download according to your computer system. For instance, here we use the Windows version as a sample.
Step 1. Customize the Output Settings.
Launch Kigo on your PC, and click on the Settings icon to set the output format (MP4 / MKV), video quality (Low, Medium / High), subtitle lauguage, audio track lauguage, output path, and so on. Here you can choose MP4 as the output video format. You can choose to save subtitles as internal subtitles, external subtitles, or hardcode subtitles, and the video codec between H.265 and H.264.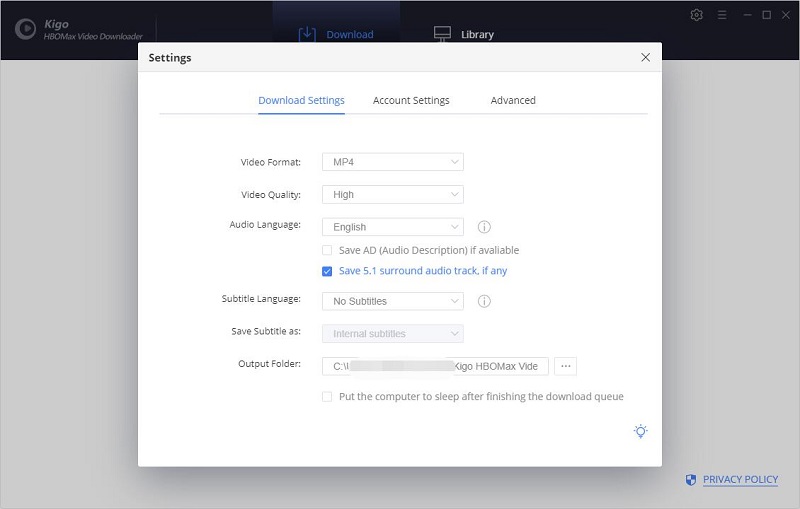 Step 2. Add HBO Max Videos to Kigo.
You can add a video from HBO Max to Kigo by typing the video title in the search box of Kigo and clicking the search icon, or you can add a video by copying the video link to Kigo, which will automatically resolve the video link on the HBO Max website and open the link on Kigo.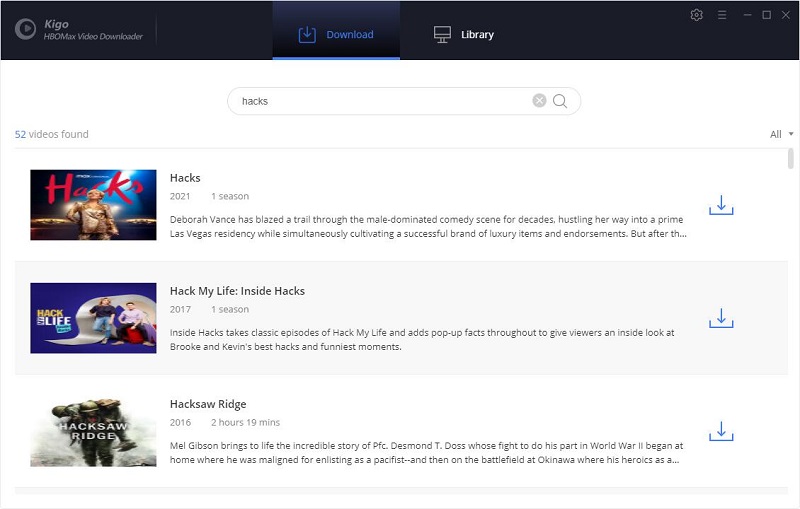 If this is your first time using the Kigo program, you will need to log into your HBO Max account before the search results are listed. Kigo will never record your login information and does a good job of protecting users' personal information.
Step 3. Set the Advanced Settings.
If the video you want to download is a movie, you can open the advanced settings window by using the settings button

next to the download button to make further settings. If the video you want to download is a TV series, you can directly click the Download button to further select the episodes and open the advanced download window.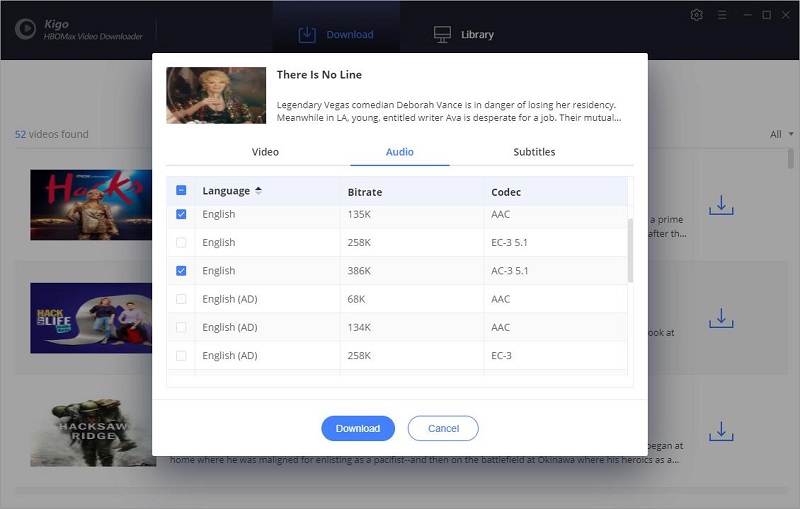 Step 4. Start to download.
After you complete the above settings, you can click the download button to start the download.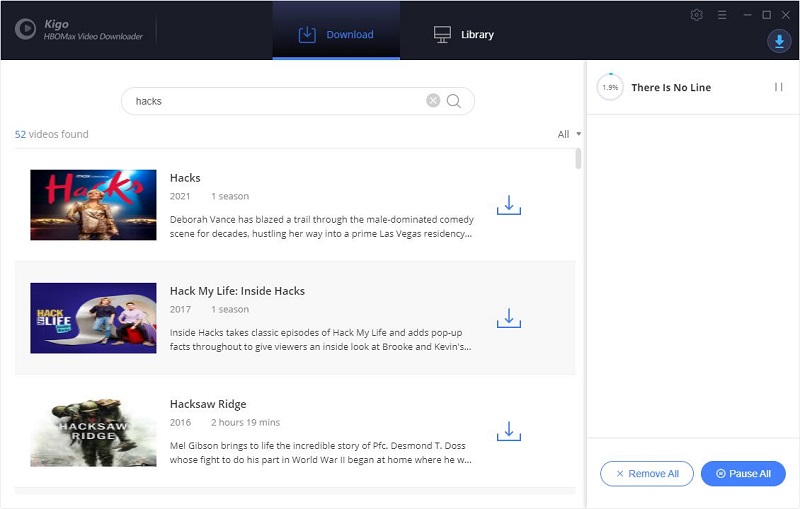 After the downloading, you can go to the "Library" tab and click the "Folder" icon to find the downloaded files on your computer.
Download for Win
Download for Mac
Summary
If you are looking for a third-party downloader to help you download HBO Max videos, there is no doubt that Kigo HBOMax Video Downloader will be the best choice for you. With the above REVIEW, I believe you have an in-depth understanding of Kigo. Don't hesitate to download it and give it a try.
Please note that only the first 5 minutes of each video can be downloaded with the trial version, please purchase a license to enjoy the full video. It is suggested that to download the trial version and have a test before purchasing it.