How to Add HBO Max Videos to Plex Library
---
Every streaming platform has its drawbacks, and HBO Max is no exception. Most of them don't work across all platforms and devices, but Plex can. If you have an Android phone, a Samsung smart TV in one room, and a Fire TV device in another, Plex can sync your watch list across all of them.
Plex allows people to create their own servers with movies, TV shows, and music and share access with others. In other words, users can discover, search, and personalize movies and TV shows across virtually any streaming service—whether it's Plex's own free movies and TV, or your other subscriptions like Netflix, Disney+, HBO Max, and as many of the various personal media libraries you have access to.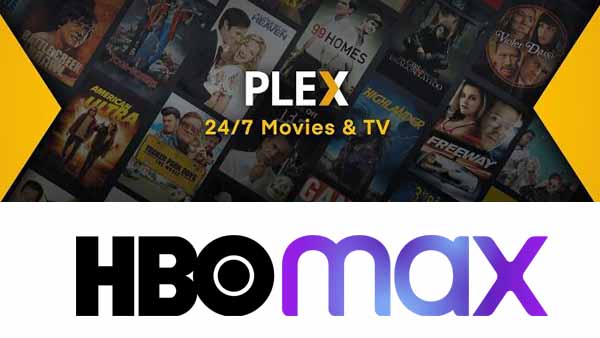 Plex is also building on this functionality with a universal watchlist feature, which allows you to search for future movies and add them to a watchlist. You'll then be notified when the movie is in theaters, available to rent, or added to any of your streaming services.
If you don't want to watch online videos through HBO Max in Plex and want to add HBO Max videos to your Plex Library for offline viewing, then you need to first download HBO Max videos locally, and then you can input them into Plex library.
Part 1. Download HBO Max Videos Locally with Kigo
In order to download HBO Max videos and import the downloaded videos into the Plex library, you need the help of a third-party downloader, and here you are recommended to use Kigo HBOMax Video Downloader. It provides an easy and fast way to download various movies and TV shows from HBO Max on your computer. Whether you are a Windows user or a Mac user, you can use Kigo to download HBO Max videos to local storage. It offers both MP4 and MKV output formats, and also supports audio tracks and subtitles downloading.
Besides, to meet the needs of users in different regions, Kigo supports 26 languages, including Chinese Simplified, Chinese Traditional, Catalan, Danish, Dutch, English, France, Filipino, German, Georgian, Ukrainian, Italian, Japanese, Korean, Polish, Portuguese, Russian, Romania, Spanish, Telugu, Turkish, Armenian, Tamil, Ukrainian, Thai, and Serbian.
Download movies and TV shows from HBO Max to PC / Mac.
Select some or the whole audio tracks and subtitles to keep.
Download HBO Max videos to MP4 / MKV with HD videos.
Support AC3 and 5.1 audio downloading.
Fast speed and easy to operate.

Free Download
Windows 11/10/8/7
100% Secure

Free Download
macOS 10.15-14
100% Secure
If this is your first time using the Kigo program, please click the Download button above to download and install the latest version to your computer, and then refer to the next tutorial to implement the HBO Max video download.
Step 1. Output format, quality settings.
Click to run Kigo on your PC, and click on the Settings icon on the top right corner of the window to set the output format (MP4 / MKV), video quality (Low, Medium / High), and so on. Here you can choose MP4 as the output video format. And you can also set the audio language, and subtitle language as you need, and save subtitles as internal subtitles, external subtitles, or hardcode subtitles, and the video codec between H.265 and H.264.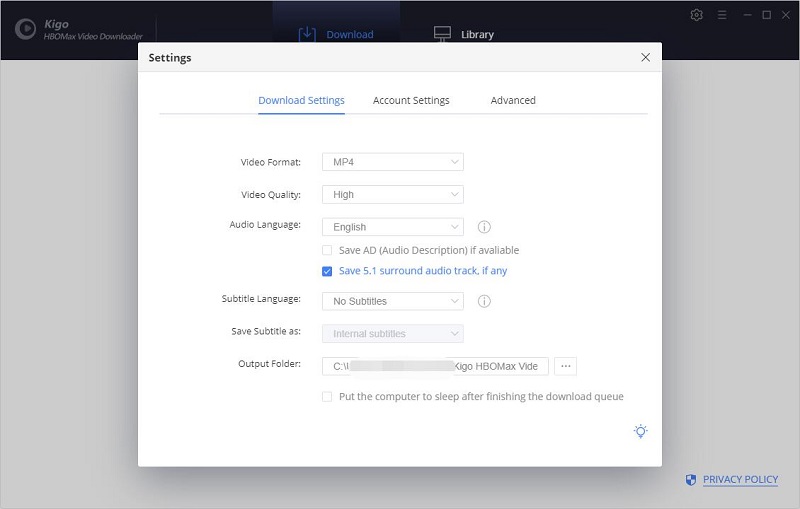 At present, you can only download HBO Max videos offline with up to 720p. Please don't worry, you can also enhance the picture quality to 1080p, by using Video Enhancer AI.
Step 2. Add videos from HBO Max to Kigo.
Kigo gives users different ways to add HBO Max videos to Kigo. You can add a video by typing the video title in the search box of Kigo and clicking the search icon, or add a video by copying the video link to Kigo, which will automatically resolve the video link on the HBO Max website and search the link on Kigo.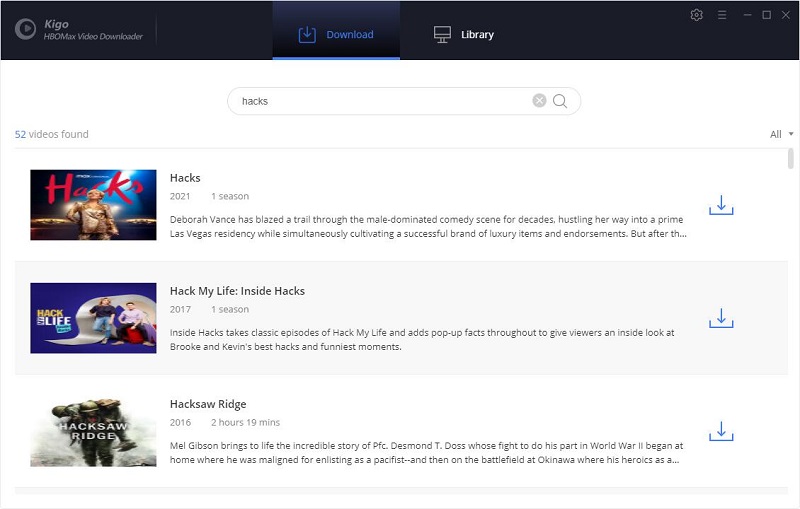 If this is your first time using the Kigo program, you will need to log into your HBO Max account before the search results are listed. Kigo will never record your login information and does a good job of protecting users' personal information.
Step 3. Select the "Advanced Download" settings.
When you want to download is a movie, you can open the advanced settings window by using the settings button

next to the download button to make further settings.
When you want to download is a TV series, you can directly click the Download button to select the episodes, and open the "Advanced Download" window by clicking the button in the lower left corner.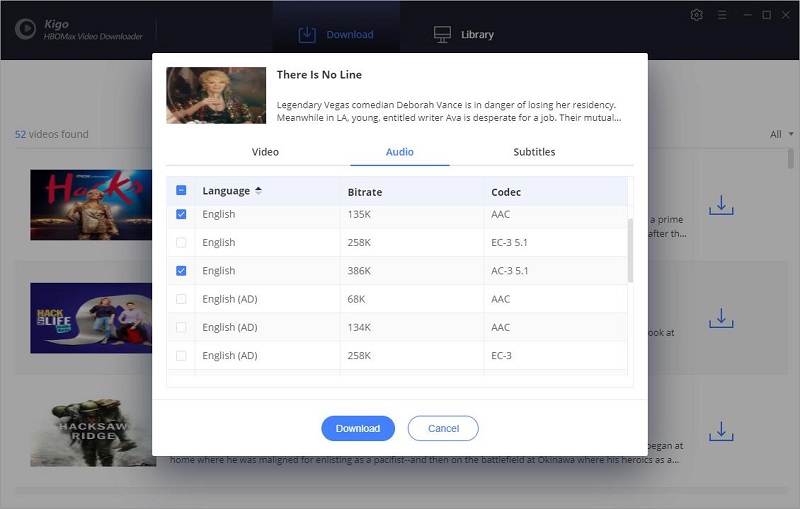 Warmly note that the acquisition of audio track language and the subtitles for your downloaded video is related to the profile language and the display language of the show/movie checked in the profile.
Step 4. Start to download videos from HBO Max.
When the above settings finished, you can click the "Download" button to start the download the video from HBO Max to your computer. Even if you don't have the HBO Max app, you can still download videos and watch them offline.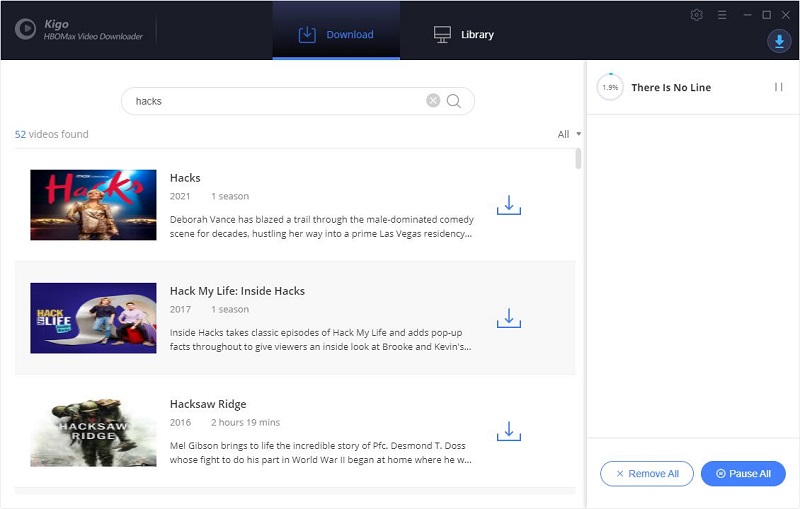 Part 2. Add HBO Max Downloads to Plex.
Once the videos are downloaded, you can import your downloaded HBO Max videos into the Plex library by following the steps below, here we use the example of a movie-type video.
1. Click the '+' sign at the Plex home page.
2. Select Movies in the Add Library window that pops up.
3. Name the library, choose your language then hit Next.
4. Navigate to your movie folder then click Add Library.
Summary
Plex helps you construct an always-accessible media server, and offers playback apps on many platforms. Plex expanded its library of free streaming content, too, with preprogrammed channels, movies, and shows that you don't even need to store on your server. This is the reason why Plex is so popular. Once you download HBO Max movies or TV shows offline with Kigo HBOMax Video Downloader and then add them to Plex library, you will have more freedom and choice to play videos.

Free Download
Windows 11/10/8/7
100% Secure

Free Download
macOS 10.15-14
100% Secure
Useful Hints
Kindly be aware that the trial version allows downloading only the initial 5 minutes of each video. To fully enjoy the complete video, we recommend purchasing a license. We also encourage you to download the trial version and test it before making a purchase.
---
Videos from HBO Max™ are copyrighted. Any redistribution of it without the consent of the copyright owners may be a violation of the law in most countries, including the USA. KigoSoft is not affiliated with HBO Max™, nor the company that owns the trademark rights to HBO Max™. This page is provided for compatibility purposes only, and in no case should be considered an endorsement of KigoSoft products by any associated 3rd party.