HBO Max Not Working? Five Tips to Fix
---
When you're playing videos on HBO Max, it's always possible to run into problems. It's rarely obvious what the specific problem may be when HBO Max is not working, so we can only try to use the most common troubleshooting tips to check one by one, and hopefully, you'll soon be back up and running with the latest episode of "Succession."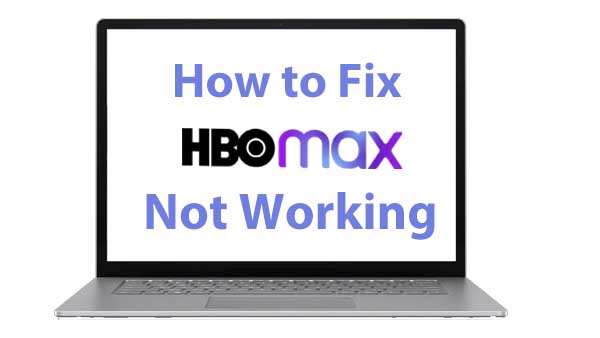 At one point or another, we've all dealt with streaming apps that crash unexpectedly. When repeatedly hitting the play button doesn't work, try the methods below to get HBO Max up and running. You can use most of these methods regardless of what device you're on.
1. Upgrade to the Latest Version of HBO Max
Make sure you're using the latest version of HBO Max on your device before trying anything else. HBO Max is not the same as HBO Go or HBO Now and updating one will not automatically update the other.
2. Check to See if HBO Max is Offline
Like any video streaming service, HBO Max needs to be online and available pretty much all the time. Once you've updated to the latest version, check your internet connection to see how your network is running. If a bad connection is the cause, reset your router, wait until it reconnects, then try watching HBO Max again.
3. Clear Your Device's App Cache
If you're still experiencing issues, try clearing your device's cache. The cache can hold on to old data that may be interfering with HBO Max. Log back into the app to see if that clears up the issue.
Your last resort is to delete the HBO Max app entirely and reinstall it onto your device. This will require you to log back into your account but could be the saving grace for getting back to your show or movie.
If you are using an Android device, you can clear the cache with a few taps. The steps might vary slightly depending upon which version of Android you are running, but here's the general procedure:
Start the Settings app.
Tap Apps & Notifications.
Go to the list of apps (tap See all apps if necessary) and tap HBO Max.
Tap Storage & cache.
Tap Clear cache.
If you're using an iPhone, there's no way to clear the app's cache. Instead, uninstall the app on your iPhone and then reinstall it from the App Store.
4. Close the HBO Max App and Restart
Sometimes the easiest way to fix a software problem is to turn things off and then back on again — either just the app or the entire device. In that spirit, you should force the HBO Max app to close and then launch it again. If you need a reminder about how to do that, here is how to close an app on Android and close an app on iOS. If you're trying to use HBO Max on a smart TV or streaming players like Roku or Fire TV, you can close and restart the app there as well, though the steps will vary depending upon what device you own.
If you are trying to watch HBO Max in a web browser on a computer, close the entire browser, open it again, and go back to the HBO Max website. Even better, switch to a different browser if you have more than one installed on your computer. If that doesn't fix the problem, try to restart the device (here's how to restart your iPhone, for instance), especially if you think it might be that the device is misbehaving.
5. Download HBOMax Videos Offline[Recommended]
A once and for all solution to fix HBO Max is not working on your device is that you can try to download HBO Max videos offline and then you can play these downloaded videos without problems anymore.
Kigo HBOMax Video Downloader is mainly designed to help Windows or Mac users to download HBO Max movies and TV shows including original series offline and save in MP4 or MKV format with HD video quality and excellent speed. All the audio tracks and subtitles can also be kept.
Download movies and TV shows from HBO Max to PC / Mac.
Select some or the whole audio tracks and subtitles to keep.
Download HBO Max videos to MP4 / MKV with HD videos.
Support AC3 and 5.1 audio downloading.
Fast speed and easy to operate.

Free Download
Windows 11/10/8/7
100% Secure

Free Download
macOS 10.15-13
100% Secure
Next, we will show you how to download videos from HBO Max with Kigo HBOMax Video Downloader on your PC.
Step 1. Set output format and output video quality.
After installing and running Kigo on your computer, click on the Settings tab to set the output format, video quality, and so on. From the Download Settings option, you can set MP4 or MKV as the output video format. And you can also select the download video quality among from Low, Medium, and High, audio type, subtitle language, output folder, and more you need.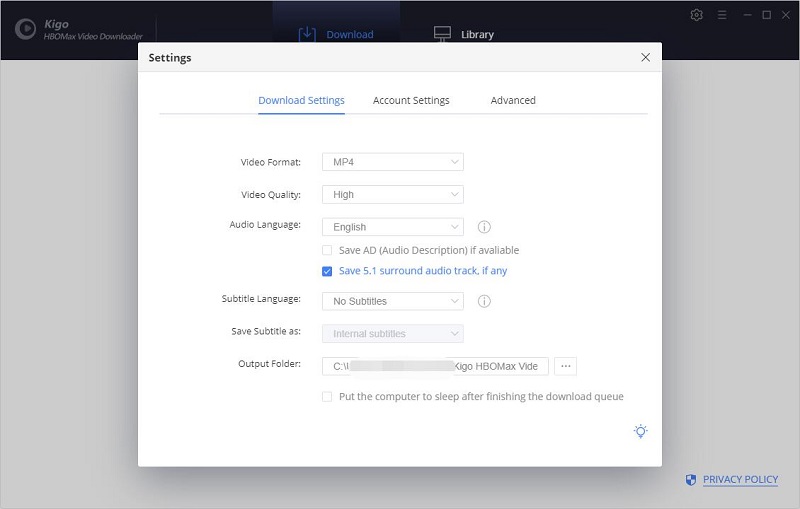 Step 2. Add HBO Max movies or TV series to Kigo.
There is a built-in smart search engine in Kigo, and users can only input video names to search and add videos to Kigo. You can also copy and paste the HBO Max video URL link directly. Please make sure that the video link is copied with the HBO Max web player link. If this is your first-time login, you need to log in with your HBO Max account to go on.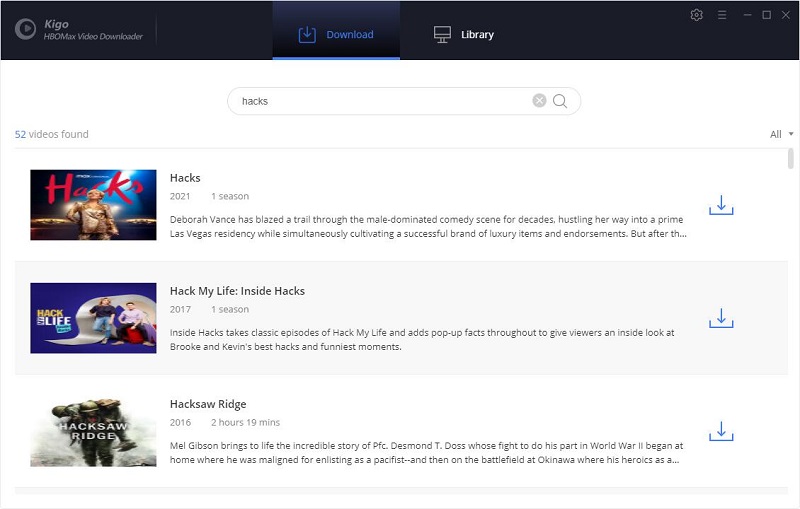 Step 3. Select videos and customize "Advanced Download" Settings.
Kigo HBOMax Video Downloader added "Advanced Download" settings to allow users to select the audio track and subtitle as needed. If you are trying to download a TV show, simply click the Download icon, following that a window will pop up allowing you to select titles as well as seasons, and to choose audio track and subtitles by clicking "Advanced Download" at the bottom left corner. If you try to download a movie, please click

to open the window.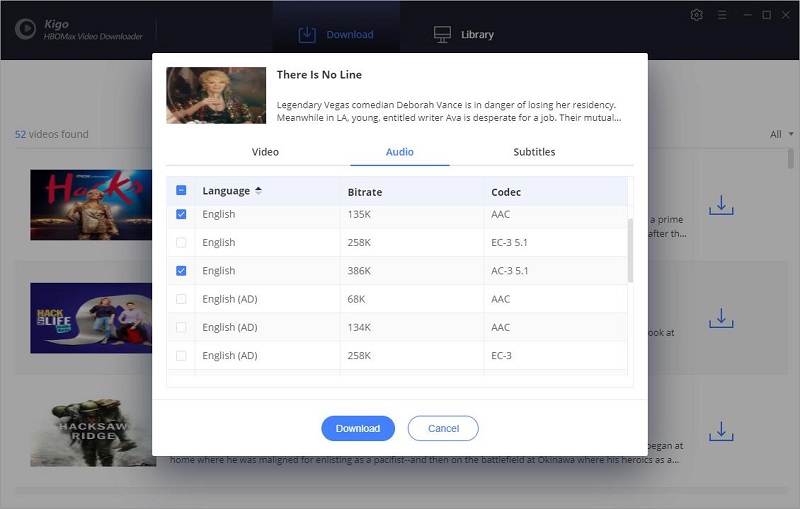 Step 4. Click "Download" to start.
Then you can click the "Download" button to start downloading HBO Max movies or TV series.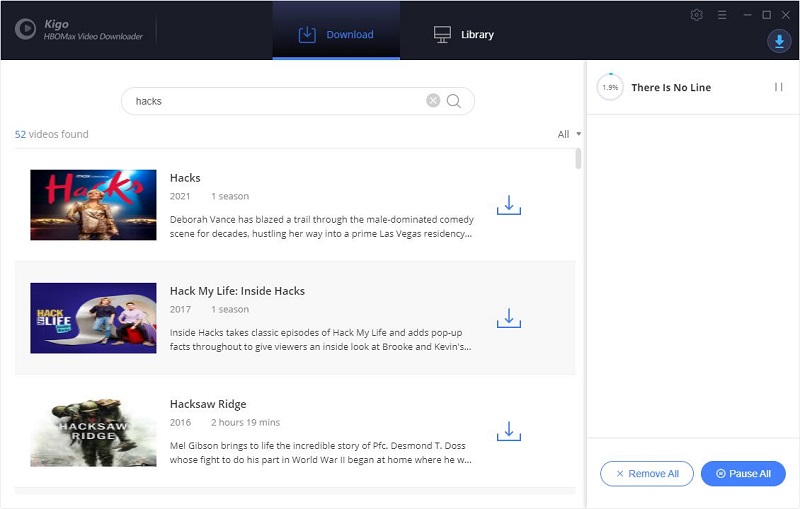 Once the downloading is completed, you can click "Library" - "Folder icon" to locate the downloaded TV Shows directly. And then you can play these downloaded videos offline on any device you like. Of course, after the video is downloaded, you don't need to worry about the problem of HBO Max not working.
Conclusion
Like any streaming service (Netflix, Amazon Prime, Disney, and Hulu), HBO Max may suffer the occasional problem and fail to stream your latest binging obsession. While you are having trouble watching HBO Max, you can follow the above tips to fix it, and you can also try to download them offline with Kigo HBOMax Video Downloader.

Free Download
Windows 11/10/8/7
100% Secure

Free Download
macOS 10.15-13
100% Secure
Useful Hints
Kindly be aware that the trial version allows downloading only the initial 5 minutes of each video. To fully enjoy the complete video, we recommend purchasing a license. We also encourage you to download the trial version and test it before making a purchase.
---
Videos from HBO Max™ are copyrighted. Any redistribution of it without the consent of the copyright owners may be a violation of the law in most countries, including the USA. KigoSoft is not affiliated with HBO Max™, nor the company that owns the trademark rights to HBO Max™. This page is provided for compatibility purposes only, and in no case should be considered an endorsement of KigoSoft products by any associated 3rd party.