How to Download HBO Max Videos to MKV Format
---
As an open-standard free format, MKV is very similar to other formats, such as MP4, AVI, etc (they are all container formats), and is free to use by anyone, anywhere. The most common extension for MMC is .mkv for videos with audio and subtitles. Because of this, MKV has features that other formats do not. First and foremost, it supports many various codecs. Next, it supports features for several streams of video, audio, chapters, and subtitles.
For a film and television fan, the MKV format is the best format for video downloads. Imagine the following, when you watch a favorite video from a streaming website like HBO Max, Netflix, Amazon Prime, Disney Plus, Hulu, and Paramount Plus, and want to download and save it offline, downloading it to MKV format seems to be a good choice.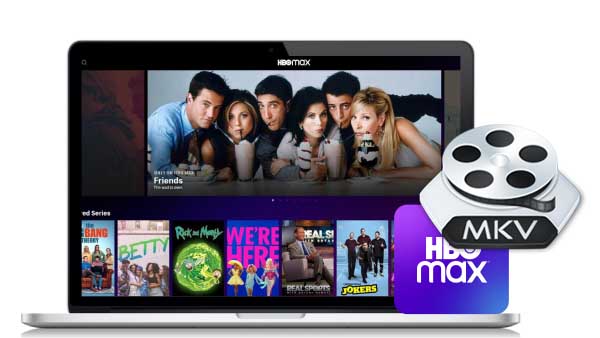 If you are a senior HBO Max fan or you have favorite TV series from HBO Max that you want to keep for a long time, you can try to download your favorite videos from HBO Max into MKV format, this article is to help you solve the problem of how to download.
Guide to Download Videos from HBO Max to MKV Format
In order to solve this problem well, you need the help of a third-party video downloader. Kigo HBO Max Video Downloader is a good choice. With Kigo HBO Max Video Downloader, users can easily and quickly download different movies and TV shows from HBO Max and play them offline. These videos can be stored in MP4 or MKV format. Of course, all the audio tracks or subtitle files can also be downloaded and saved. The best quality you can download requires your HDCP check.
Download movies and TV shows from HBO Max to PC / Mac.
Select some or the whole audio tracks and subtitles to keep.
Download HBO Max videos to MP4 / MKV with HD videos.
Support AC3 and 5.1 audio downloading.
Fast speed and easy to operate.

Free Download
Windows 11/10/8/7
100% Secure

Free Download
macOS 10.15-14
100% Secure
Through the following tutorial, you can quickly learn how to use Kigo HBOMax Video Downloader to download HBO Max videos to MKV format. Whether you are a Windows user or a Mac user, you can download the corresponding version to your computer through the download button above.
In the first place, install and launch Kigo HBOMax Video Downloader on your PC.
Step 1. Set Output Format, and Output Video Quality..。
Click on the Settings tab on the top right corner of the window to set the output format, video quality, and so on. From the drop-down list of Download Settings option, choose MKV as the output video format. And you can also set the download video quality (High, Medium, and Low), audio type, subtitle language, output folder, and more as you need.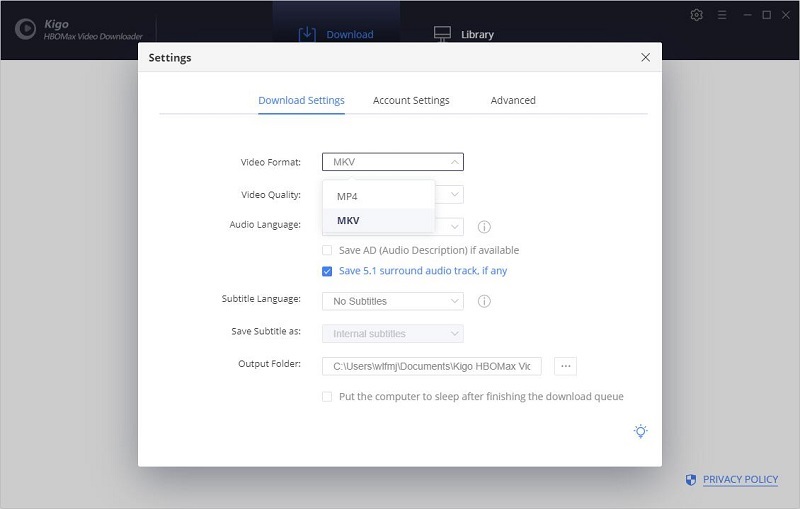 Step 2. Add HBO Max movies or TV Series to Kigo.
The program has its own video search function, which means that you can search and add videos directly by video name or keyword. Of course, you can also copy the video link and drag and drop the video link to the program. Please make sure that the video link you add is the link of the video player, and the video can be played through this link. Otherwise, the added video link may not be able to search for video results.
If you are using it for the first time, you need to log in with your HBO Max account. After the login, the search results will list on the Kigo.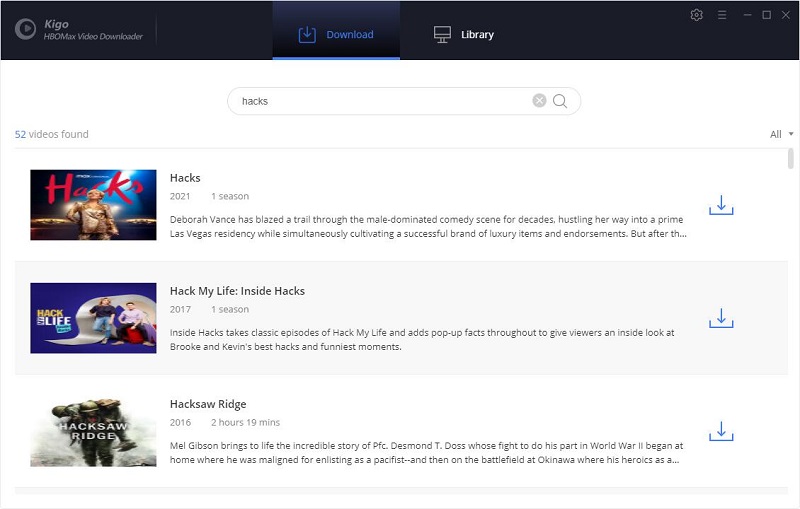 Step 3. Select Videos and "Advanced Download" Settings.
Kigo HBOMax Video Downloader added "Advanced Download" settings to allow users to select the audio track and subtitle as needed. If you are trying to download a TV show, simply click the "Download" icon, followed that a window will pop up allowing you to select titles as well as seasons, and to choose audio track and subtitles by clicking "Advanced Download" in the bottom left corner. If you try to download a movie, please click

to open the window.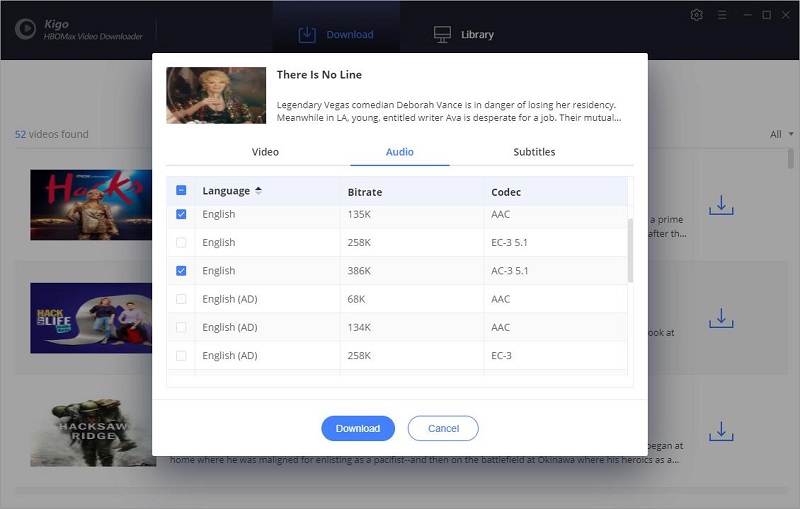 Step 4. Start Downloading HBO Max to MKV.
Set up, now you can click the "Download" button to start the download.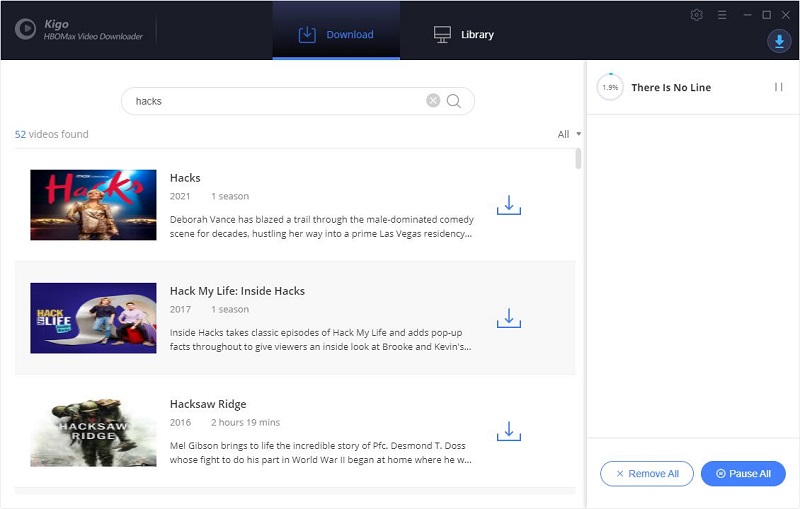 Step 5. Locate Downloaded MKV Videos.
When the download is complete, you can quickly find the download history through the Library. Click the "Folder" icon, you can quickly locate the downloaded video and play it.
Play Downloaded MKV Files on Your PC
Because MKV isn't an industry standard like MP4, not all media players support it—even though support has grown rapidly. You have two main options for playing MKV files: using an MKV-compatible media player or downloading the appropriate codecs for the media player you prefer. Here we strongly recommend you use VLC Media Player to play MKV files which also supports selecting different audio tracks and subtitles. To watch an MKV file using VLC, right-click the MKV file, point to "Open With," and then choose "VLC Media Player."
If you would prefer to use Windows Media Player or another Windows player that doesn't already support MKV files, you can. In order to add that support, you'll need to install some support files known as codecs (the name is shorthand for compression/decompression). These codecs help your video player understand how to decompress files that it doesn't natively support.
Conclusion
The variety of subtitles and audio makes the popularity of the video not limited by geographical location. When you download HBO Max videos and save them in MKV format with the audio track and subtitles kept, you can watch these downloaded videos on VLC Media Player any time you like

Free Download
Windows 11/10/8/7
100% Secure

Free Download
macOS 10.15-14
100% Secure
Useful Hints
Kindly be aware that the trial version allows downloading only the initial 5 minutes of each video. To fully enjoy the complete video, we recommend purchasing a license. We also encourage you to download the trial version and test it before making a purchase.
---
Videos from HBO Max™ are copyrighted. Any redistribution of it without the consent of the copyright owners may be a violation of the law in most countries, including the USA. KigoSoft is not affiliated with HBO Max™, nor the company that owns the trademark rights to HBO Max™. This page is provided for compatibility purposes only, and in no case should be considered an endorsement of KigoSoft products by any associated 3rd party.