How to Download Hulu Videos from Google Chrome
Google Chrome is a free web browser developed by Google that is used for accessing web pages on the internet. To watch Hulu videos on Google Chrome, you can simply open Chrome and navigate to Hulu. Once there, sign in with your Hulu credentials and start watching. Hulu's offline downloads feature is available in the Hulu app for Android, iOS and iPadOS. Unlike the download button in the Hulu app, there is no download option when you play Hulu videos through Chrome. So how to download Hulu videos from Chrome?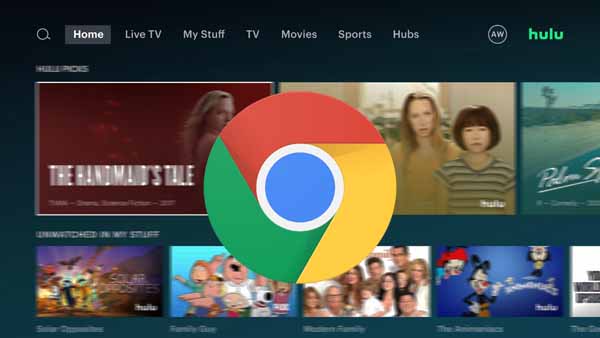 Why Choose Google Chrome
Google Chrome is also a cross-platform browser, meaning some versions work on different computers and mobile devices. There are a large number of Chromium extensions for users to improve their web browsing experience. Chrome also has some minor but unique features, like Google Translate and a reading list, but it still relies on its browser extensions and user preferences for additional functionality. As of June 2022, it's the world's most popular web browser option, with more than 64. 68% of its market share.
Tool Required: Kigo Hulu Video Downloader
There is no official channel to help users download videos directly from the browser, you can use a third-party download tool like Kigo Hulu Video Downloader. This way you just need to open the Hulu website on Google Chrome, find the video you want to download, open the play page and copy the link address. If you have already started Kigo on your computer, then Kigo will automatically recognize and parse your Hulu video link and search for the video, and you can then select the video to download. Kigo currently supports Hulu.com and Hulu.jp. It also supports downloading the audio track language and subtitle language according to the user's own choice. It also supports three storage modes for subtitles, internal subtitles, external subtitles, and hardcode subtitles. If you only need a certain audio, subtitle, or video file, you can also choose to download the subtitle, audio, or video separately.
Support downloading Hulu videos including movies and TV shows.
Retain audio tracks and subtitles.
Download Hulu videos in MP4 / MKV format.
Support AC3 audio and HD video downloading.
Fast speed and easy to operate.

Free Download
Windows 11/10/8/7
100% Secure

Free Download
macOS 10.15-14
100% Secure
How to Download Hulu Videos from Google Chrome
With Kigo Hulu Video Downloader, you can easily download any Hulu videos from Google Chrome and save them in MP4 or MKV format. Regardless of the user's subscription plan (Hulu Ad-supported Plan or Hulu without Ads Plan), you can use Kigo to download Hulu videos.
Step 1. Select the Output Settings.
Please click the download button above to download Kigo Hulu Video Downloader and install it on your PC / Mac. Then launch Kigo on your computer, and click on the Settings tab on the top right corner of the window to set the output format, video quality and so on.
From the Download Settings option, you can set MP4 or MKV as the output video format. And you can also set the download video quality, audio type, subtitle language, output folder and more as you need. Kigo supports downloading videos from both Hulu US and Hulu Japan. From the Account Settings column, you can click website to choose the different website.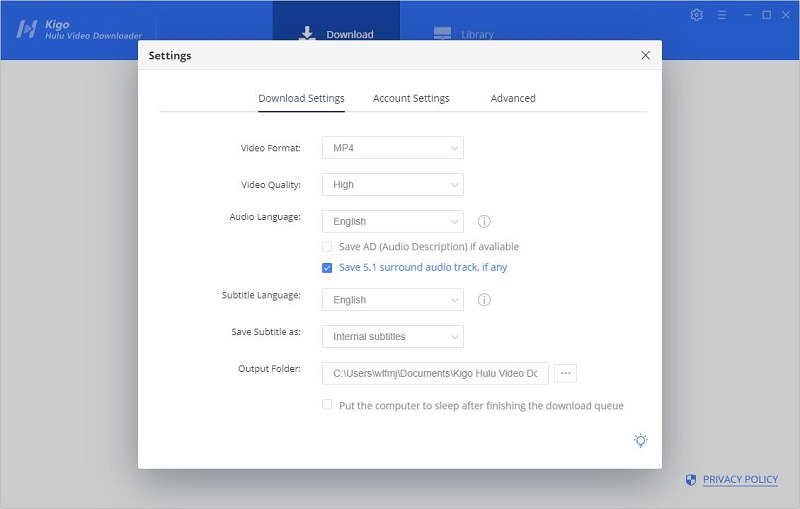 Please note that, the video quality selected through the settings window is simply the difference between "Low", "Medium", and "High". If you want to specifically choose a different bitrate for this kind of quality (480p and 720p), please set it through the advanced download. The choice of audio tracks and subtitles is similar. If more detailed settings are needed, please also set them through the "Advanced Download" window.
Step 2. Copy Hulu Video Link from Chrome to Kigo.
Open Hulu.com on your Chrome, and then find the videos you want to download. Please make sure that the link must be the playback link. Kigo will automatically recognize and parse your Hulu link and search for the video, then select the video to download. If this is your first time login, you need to log in with your Hulu account to access Hulu services. Then the search results will list on the program. Please don't worry, Kigo will not collect any information other than the videos and your personal and privacy safety can be guaranteed to the greatest extent.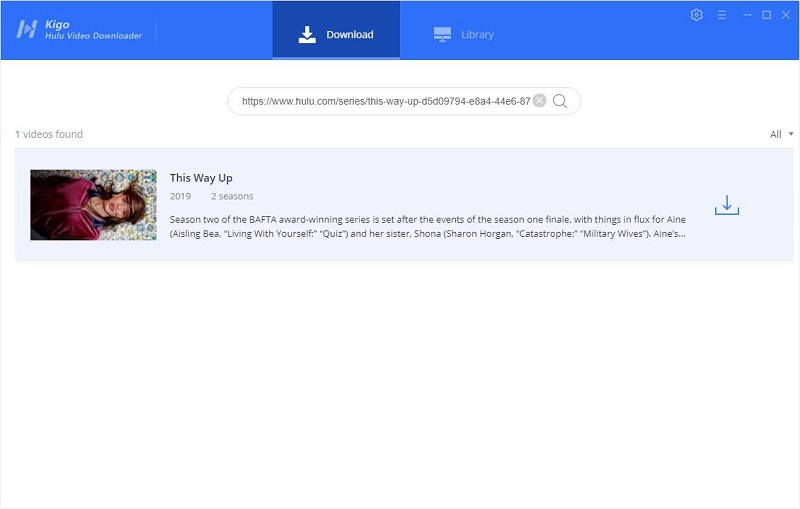 Step 3. Customize "Advanced Download" Settings.
Once the search results are listed in Kigo, if you are trying to download a TV show, just click the "Download" icon, followed that a window will pop up prompting you to choose titles and seasons, and to choose audio tracks and subtitles by clicking "Advanced Download" in the bottom left corner.
If you are trying to download a movie from Hulu, please click

to open the "Advanced Download" window to select specific video quality, audio tracks, and subtitles.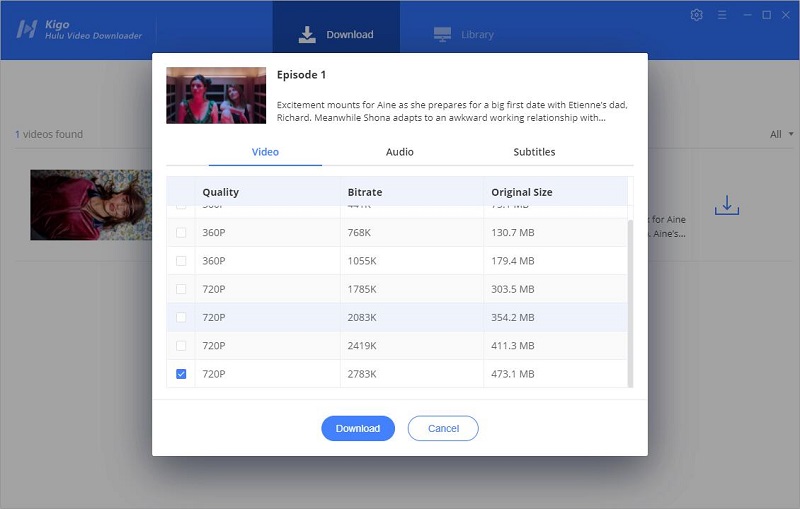 Step 4. Start Downloading Hulu Videos from Google Chrome.
Hit the "Download" button, and the Hulu video will be downloaded at a fast speed.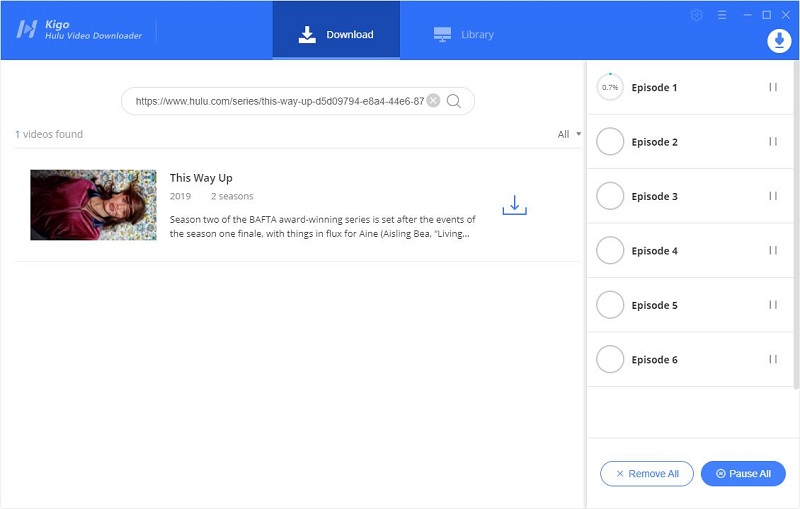 Once the downloading is completed, you can go to the "Library" tab to view all the downloading history, and also click the "Folder icon" to locate the downloaded videos directly.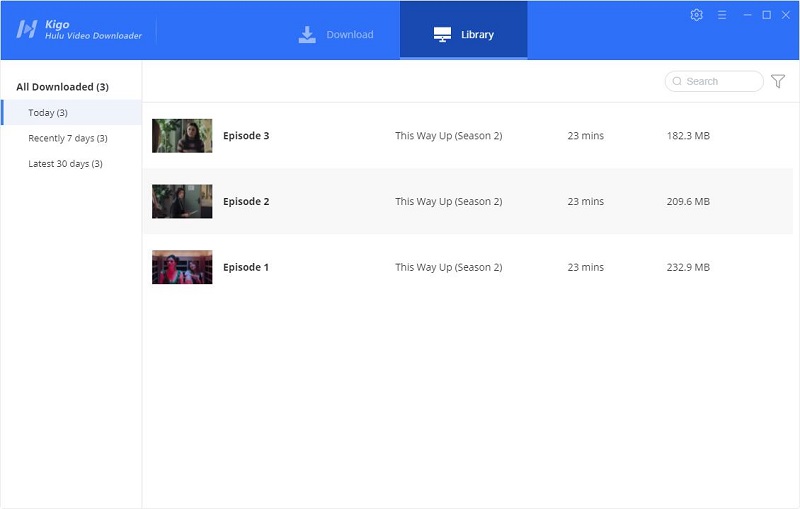 Final Words
When you find the favorite Hulu video from Chrome, you can also download them for offline playing with Kigo Hulu Video Downloader. All the downloaded videos can also be transferred to other devices that can play MP4/MKV videos.

Free Download
Windows 11/10/8/7
100% Secure

Free Download
macOS 10.15-14
100% Secure
Useful Hints
Kindly be aware that the trial version allows downloading only the initial 5 minutes of each video. To fully enjoy the complete video, we recommend purchasing a license. We also encourage you to download the trial version and test it before making a purchase.
---
Videos from Hulu™ are copyrighted. Any redistribution of it without the consent of the copyright owners may be a violation of the law in most countries, including the USA. KigoSoft is not affiliated with Hulu™, nor the company that owns the trademark rights to Hulu™. This page is provided for compatibility purposes only, and in no case should be considered an endorsement of KigoSoft products by any associated 3rd party.