As a powerful and easy-to-use Youtube downloader, Kigo Video Downloader helps you download Youtube videos and convert for the popular video players fast and easily.
Various Audio / Video formats you can download
There are kinds of video or audio formats you can download, for the audio, you can download M4A, AAC, MP3(128K), MP3(64K). For the video, you can download YouTube video in 4K 4096p, HD 1080p, HD 720p, 480p, 360p, 240p. The available formats for video download are MP4, FLV, WebM.
Download Youtube videos in batch
It also supports batch mode, so you can set batch parameters for input quality, action, destination and so on. And then, the video downloader will download and convert videos in accordance with your saved settings.
Remove Ads from videos
For free users, mosts videos are with annoying Ads. Don't worry this any more. The Youtube Video Downloader can remove all the Ads placed on the videos. You can enjoy the videos without Ads any more.
Download YouTube Private & Embedded Videos
In addition to the standard Youtube videos, you can also download the Youtube Private & Embedded Videos on the Mac.
How to download Youtube Videos and convert for iPhone, iPad, iPod and so on
Here are several ways for you to download Youtube easily.
Step 1: Add videos' URL of Youtube videos
Kigo Video Downloader provides two methods to add video's URL for you:
Method 1. Click Paste URL button (Or through menu File-> New Download) and paste the URL in the pops-up window. Then click OK to parse the link.
Method 2. Drag the URL of the video playback to the Downloading list to parse the link.
After URL parsed correctly, the videos will be displayed in Downloading list.
Step 2: Download options setting
A lot of the videos are divided into multiple segments, including advertisements. After analyze the URL complete, all segments and ads will be listed. You can free download video clips, including ads. The fragment of less than 15 seconds is default unchecked.
Step 3: Select the file you want to download. Click Start to begin downloading.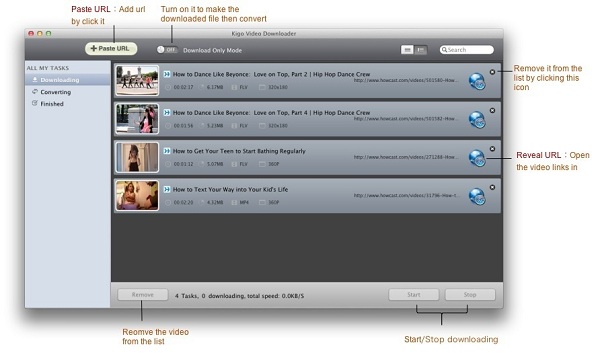 After the download is complete, the video files are automatically saved to the Finished list.
If you want to download files and then quickly start the conversion, you can click the button

to slide it ON state.
You can set profile of each file in the list by selecting it and clicking the Profile button. Then the settings window will show up.
While you set the downloading parameters, you can set the output formats and the preset for your portable players.
Finally, Click Convert Now! to begin converting.