Download Vimeo Videos to your Mac, iPad, Zune, iRiver, Apple Devices, PSP, Android phones with Kigo Video downloader.
Kigo Video Downloader is a small, fast, useful, practical and powerful Vimeo Video Downloader for Mac users. Simply copy and paste the URL of a video into the program, press Start, and the file will be downloaded into the selected folder.
Why choose Kigo Video Downloader
Kigo video downloader is free yet with powerful functions.
Kinds of methods to download videos with one click
Download and convert the Vimeo video into various formats, such as MP4, AVI, FLV, 3GP, etc.
Download Vimeo videos in batch
Work for iPod , iPhone, iPad, PSP, iRiver, Zune, Creative Zen
Extract audio from Vimeo video
Remove annoying Ads from Vimeo Videos
Preview videos after download
Manage the files directly
Provide with simple user interface
Easy to use and fast speed
How to Download Vimeo Videos
First you need to download Kigo Video Downloader, install and run it.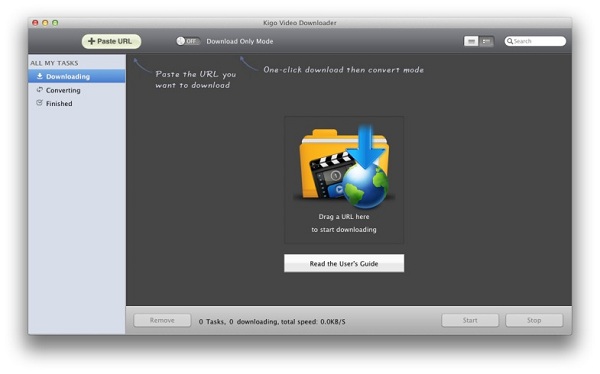 Add Vimeo videos' URL
Click Paste URL button (Or through menu File-> New Download) and paste the URL in the pops-up window. Then click OK to parse the link. Or drag the URL of the video playback to the Downloading list
Download options setting
A lot of the videos are divided into multiple segments, including advertisements. After analyze the URL complete, all segments and ads will be listed. You can free download video clips, including ads. The fragment of less than 15 seconds is default unchecked.
Select the file you want to download. Click Start to begin downloading.
After the download is complete, the video files are automatically saved to the Finished list.
If you want to download files and then quickly start the conversion, you can click the button

to slide it ON state.
You can set profile of each file in the list by selecting it and clicking the Profile button. Then the settings window will show up.
While you set the downloading parameters, you can set the output formats and the preset for your portable players.
Finally, Click Convert Now! to begin converting.
About Vimeo.com
Vimeo.com is a U.S.-based video-sharing website on which users can upload, share and view videos. It was founded by Jake Lodwick and Zach Klein in November 2004. They left the company in 2007 and 2008 respectively.
The name Vimeo was created by Lodwick and is a play on the word video, inserting the word "me" as a reference to the site's dedication to user-made video and is also an anagram of the word "movie".