If you are a blogger, you always like to show others how to do something, the words tutorial cannot describe all the details easily and quickly? Why not make a video tutorial and upload to your blog, and so every one can know all the details quickly.
In another case, for some special video websites, you can only watch these videos online, moreover, you cannot download videos from websites, they are limited. You still can record the videos when playing it, what you need to do is just play the videos in full screen.
Let this screen recorder help you. The screen recorder is built-in Kigo Video Converter Ultimate, which helps you record all screen and audio activity on your computer and create industry-standard AVI video files. Meanwhile, you can use its built-in SWF Producer to turn those AVIs into lean, mean, bandwidth-friendly Streaming Flash videos (SWFs).
Screen recorder built-in Video Converter
The Screen Recorder is a useful and easy-to-use screen recording program for the Mac users, which allows you to record all desktop activities to video for creating software tutorials, website demos. What's more, you can import the recorded file to the video converter, and edit and convert it to any format you want.
While playing videos on the web, you can choose full screen, and the software supports full screen HD capture.
To get better visual effects, there are several FPS values for you to choose as you need.
After the recording, you can preview the recorded video and check it, and convert to any other formats for iPod, iPad, iPhone, PSP, PS3, Walkman, iRiver, Archos, and so on.
Steps to Record Screen and Convert
Step 1: Select the record mode
Record Screen: A powerful and easy-to-use screen casting function of this program for the Mac. It allows you to record desktop activities in Full Screen or Region.
Record Device: Allow you to record from the embedded or attached camera to record screen.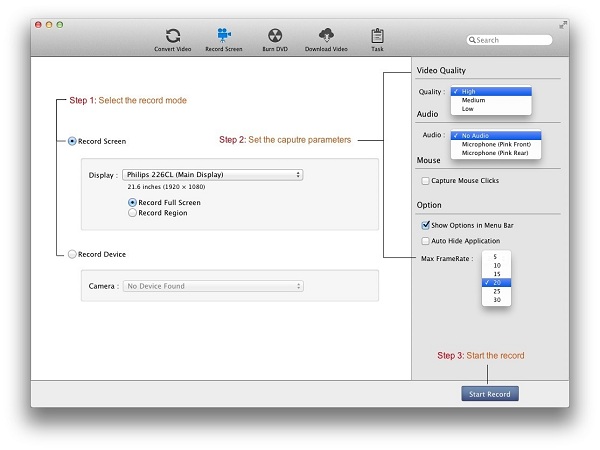 Step 2: Set the capture parameters
Video Quality: You can select High, Medium or Low as video quality.
Audio: Select No Audio to record without audio or select the recording equipment that detected according to the device to record audio.
Mouse: After checking on Capture Mouse Clicks, the action will be marked in the record when clicking mouse.
Options:
1. After checking on Show Options in Menu Bar, the timer with Stop Screen Recording options will display on menu bar of Mac.
2. After checking on Auto Hide Application, the main window of the application will auto hide when starting the record.
3. Max FrameRate: Max Frames Per Second. The program provides multiple FPS values for you to choose, including 30, 25, 20, 15, 10, 5, the more FPS, action will be displayed more smoothly, and the default value is 15, which will be enough.
Tips: Record Device only supports setting Show Options in Menu Bar in the Mouse and Option parameters.
Step 3: Start the record
Click Start Record button to start and then the recording process is added to the Task- Pending- Recording list. Meanwhile recording state displays in the Record Screen list.
Tips:
1. The performance is slightly different with Record region.
After click Start Record button, then a prompt "Drag Mouse to Start Region, Press ESC or Click Anywhere to Cancel" shows in the center of the screen. And another prompt "Click to Start Record, Press ESC to Cancel" displays in the center of the region after dragging mouse to select a region. When clicking the button, the recording started.
2. Before clicking to start, you can re-adjust the selected area in Record region.
3. The camera's LED of Record Device will be lit when starting recording.
4. At the same time can't be more than one record.
5. During recording, you can't modify the capture parameters.
Step 4: Stop the record
Method 1: Click Stop Record button in Record Screen list to finish recording.
Method 2: Click Stop button in Task- Pending- Recording list to finish recording.
Method 3: If the timer shows options in the menu bar, you can click the options to select Stop Screen Recording or shortcuts "Shift+ Command+ 1" to finish recording.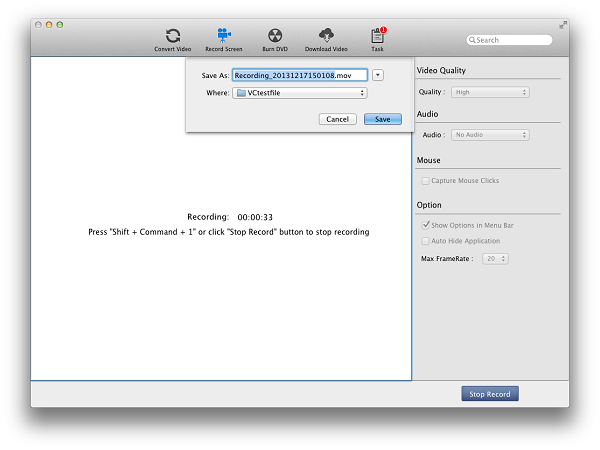 Tips: After stopping the record, a window with Save As and Where pops up. You can customize the name and path of the recording. If you save the recording, the file will be added to the Task- History- Recorded list. If you don't, the file will be deleted directly.