MKV stands for "Matroska Video". Matroska is a container file format, in which there can be many audio, video and subtitles streams, allowing the user to store a complete movie in a single file.
Maybe you have some MKV videos and you want to share them with your friends or to play them on your DVD players. Maybe you have gotten some MKV files and would like to preserve them better. Burning MKV to DVD is an ideal choice.
DVD Creator for Mac is Recommended
To burn MKV to DVD player compatible format, KVC Ultimate DVD Creator for Mac, which is a professional DVD creator that can fast convert MKV to DVD with lossless video quality, is highly recommended.
This powerful DVD creator lets you easily burn regular video formats like MOV, MKV, MP4, AVI, WMV, MTS, FLV,MPG, MPEG, HD videos, etc. to DVD disc or DVD Folder.
What's more, it also provides powerful editing functions such as cropping, adding effect and watermark, etc. to personalize your DVD.
The DVD Creator for Mac offers intuitive interface so that you can load videos and burn videos easily and fast!
How to burn MKV to DVD Step by Step
Step 1: Add videos
Click the Add button (Also through the menu item File-> Add File(s) to Burn DVD or drag files to the list directly from your disc or other location) to select the files you want to import.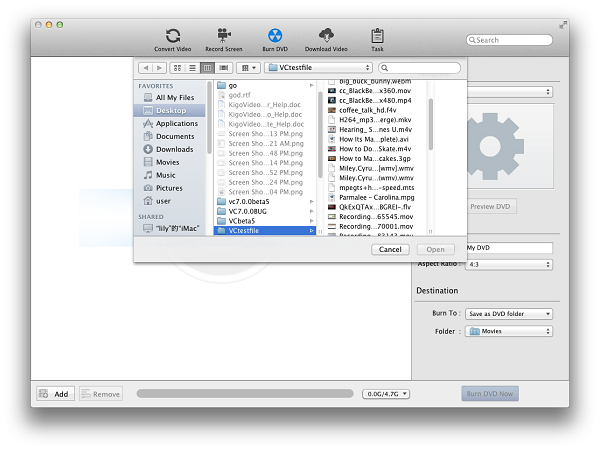 At the bottom of the Burn DVD window, disc capacity bar with two types capacity (DVD 4.7G, DVD DL 8.5G) displays different status according to the size of the added files. When no file added, disc capacity bar is blank. After adding files, Green represents plenty of space, yellow is running out of space, and red is warning the available space has been exceeded.
Tips: The videos in the list can freely add, delete, sort and preview.
Step 2: Set the template.
Click Template drop-list to set a template as DVD menu for self-made DVD files. The selected template will be displayed in the below window. And then click Preview DVD button, the DVDPreview window pops up with added files, next / previous button and play button.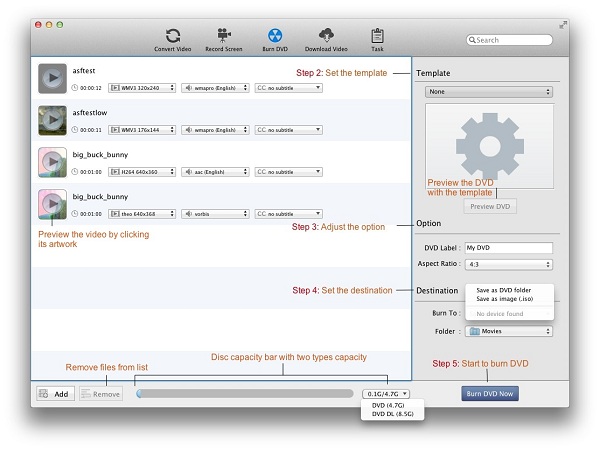 Tips:
1. If Template is None, it doesn't support to preview DVD.
2. If no file added, it also doesn't support to preview DVD.
3. Next/ previous button displays according to the number of the added files.
4. Click play button or click the file in the DVDPreview window to play the video.
Step 3: Adjust the option.
DVD Label:
The default name is My DVD. Or customize it.
Aspect Ratio:
Set the aspect ratio of the video, such as 4: 3 or 16: 9.
Step 4: Set the destination
Burn To:
Set the output type. Including Save as DVD folder, Save as image (.iso), when DVD device is detected, you can check it to save files in DVD disc.
Folder:
Click the Destination - Folder drop list and then click Choose бн to set the destination.
Tips: The default output directory is / Users/ user/ Movies, and click Reveal In Finder could open the path.
Step 5: Start to burn DVD
Click the Burn DVD Now button and then progress bar pops up.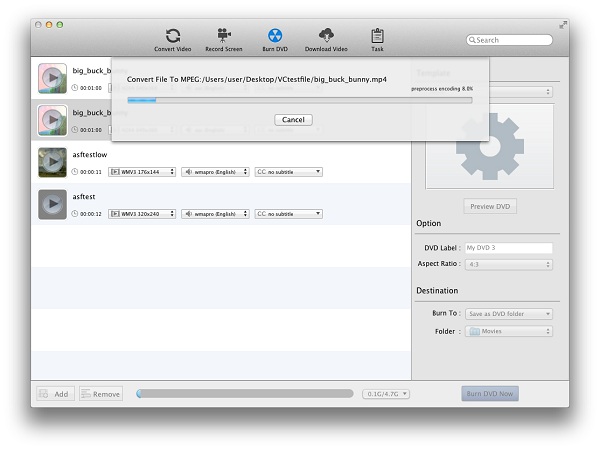 Tips:
You are unable to operate other functions temporarily, before the completion of burning.
Step 6: Finish burning DVD
After the burning is done, it will be deleted form burning list, and then added to Task- History- Burned list.