Online Guide of Kigo M4V Converter for Mac
If you may convert protected M4V videos to unprotected videos and then play on ipod, please read the following steps. This reference recorded on a trial version.
Step 1: Select M4V to convert
Click Add button, search M4V videos according name, then select the videos, click OK button.
All the video files in your iTunes' video libary will be listed.
Tips: The program allows you to import files from different iTunes library (Default is Moives).
Step 2: Customize output settings
Customize output settings as default, and then select "for iPod" in profile droplist.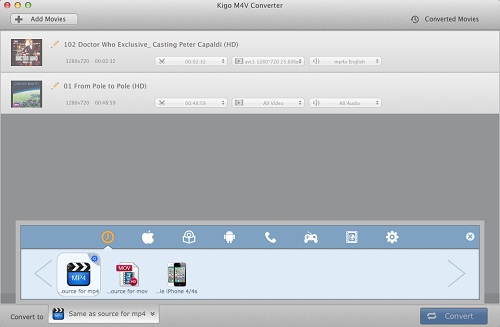 The profile displays a variety of mobile devices, and each device has one or more popular output formats such as mov, mp4, avi, flv, swf, 3gp and so on.
Set output path
The default output path is /Users/username/Documents/M4VConverter, but you can click the button Browse to customize the output location as you like. And Click the Open button to view the output folder quickly.

Each profile has its own default profile setting, but you can customize the parameters according to your need.
Step 3: Start Converting
You just need to click the button Convert (Or do this through the menu item Controls->Start Converting), and the Status will show you the conversion progress.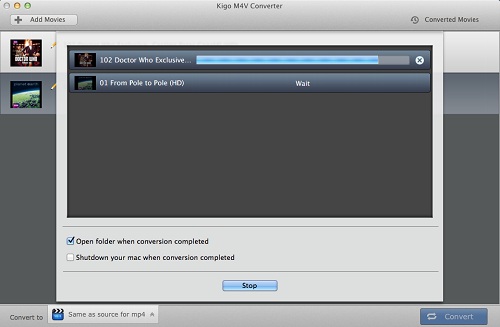 Check Conversion Quality
When converting complete, you can select one of these video files, and then play it to view video effects whether it is satisfied. You can also re-customize the output setting to convert the video to other format.
Step 4: Show File in Finder
Click menu item Show in Finder. You can find your all output movies, then you can play them in any available player, and copy them into ipod, iphone, mobile phone and so on.

Learn in converting to popular MP4 player